9 stops to make on your trip to Switzerland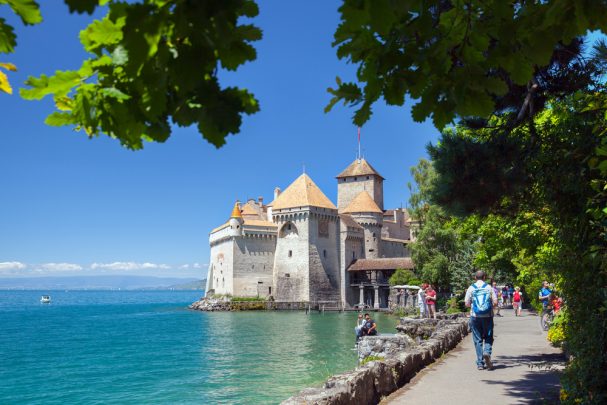 Oh, Switzerland! This country is known for its handy pocket knives, chic watches and being the most neutral country on the planet, but beyond the clichés, Switzerland is a country of immense beauty, incredible architectural landscapes and knock out natural wonders that will make you want to run through the hills. If you do find yourself visiting this stunning country, then be sure to pop these places at the top of your list of things to see and do while you're there.
Read more: Begin planning your own Switzerland holiday
1. Zermatt
Ad. Article continues below.
This is home of the iconic Matterhorn. Jump on a cable car and take in the views.
2. Chateau D'Oex
Ad. Article continues below.
Not only is this region known for being a winter wonderland for skiers, but there's also some summer lovin' to be had here, too. Take a walk through the old villages or stay for the International hot-air balloon festivities.  
3. Chateau de Chillon
Set on Lake Geneva, Chateau de Chillon is one of the most visited castles in all of Europe and for good reason. Get a load of the view!
Ad. Article continues below.
4. Lake Zurich
If someone told you to jump a the lake here, you'd happily oblige, because Lake Zurich is not only as picturesque as they come, but is also home to the largest covered waterpark in Europe. Bring your swimmers!
5. Fribourg
Ad. Article continues below.
Cheese and chocolate fans, this is the place for you. Fribourg is where the country's dairy really thrives and in the best way possible. This is where Friobourg cow milk is made into gruyère cheese and classic Swiss chocolate.
6. St. Moritz
Ad. Article continues below.
Two-time Winter Olympics host, St. Moritz is where the rich and famous come to ski. There are even skating rinks where ice polo games are hosted. This is one of the most famous ski resorts in the world and has been a classic holiday destination for decades.
7. The Rhine Falls
Ad. Article continues below.
Witness Europe's largest waterfall in action near Schaffhausen. The falls are more than 15,000 years old and can move up to 1.2 million litres per second.
8. Lucerne
Ad. Article continues below.
Surrounded by mountains, this lakeside city is known for its wooden footbridge (one of the oldest in all of Europe).
9. Lavaux
Bottoms up! There are more than 830 hectares of vineyards in Lavaux and they're all set along Lake Geneva. So pull up a chair, find a nice glass of plonk and soak up the landscapes as well the vino.
Have you checked Switzerland off your bucket list yet? Let us know in the comments section below.