8 foods worth putting on weight for in Italy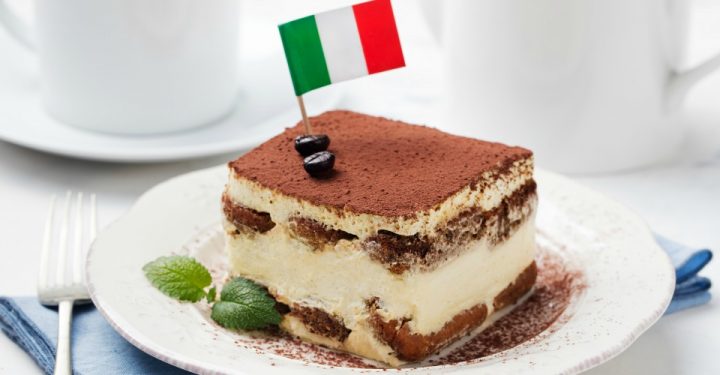 We've all had Italian food or eaten at an Italian restaurant at some point. But the truth is, there is much more to Italian cuisine than just pizza, pasta and gelato. If you're planning a trip to Italy then be prepared to indulge your appetite and gain a little bit of weight. Here are eight foods worth putting on weight for in Italy. 
Read more: Learn more about trips and special to Italy here
1. Saltimbocca
Ad. Article continues below.
Picture veal, chicken or mutton wrapped in prosciutto and topped with herbs. This delicious combination is the Italian cuisine known as saltimbocca. Apparently, the saltimbocca is sautéed in a pan, making the meat just melt away in your mouth as you eat it. The dish can also be made with beef, lamb or varieties of fish. Saltimbocca is one of the most popular dishes amongst travellers to Italy, making it one of the meals you must try on your Italian holiday!
2. Tiramisu
Ad. Article continues below.
No doubt you're tried tiramisu here at home. But nothing beats a genuine Italian tiramisu. A traditional tiramisu combines some of your favourite ingredients such as ladyfingers, coffee, eggs, sugar, cocoa and mascarpone cheese. Add a side of gelato or a coffee and you're all set to have the perfect indulgent Italian dessert.
3. Osso buco alla Milanese
Ad. Article continues below.
In Australia, osso bucco is a dish many people make in their slow cooker. But it's actually a variation of the popular Italian dish osso buco alla Milanese. If you love meat, then you'll love the taste of the white wine braised veal shanks. The meat ends up so tender, and is usually served alongside vegetables and gremolata. One of the highlights of the whole meal is the creamy marrow leftover from the bones of the veal!
4. Arancini
Ad. Article continues below.
These deep fried rice balls are a popular cuisine in Italy. Arancini balls are basically just balls of rice, covered with breadcrumbs. But inside you'll find tomato sauce, mozzarella and peas. If you're travelling across multiple regions of Italy, you'll find different variations of this dish. Arancini con burro is a variety made with béchamel sauce, while the arancini con funghi contains mushrooms.
5. Torrone
Ad. Article continues below.
You've probably heard of or at least tasted nougat. Well, torrone is basically the Italian equivalent. Made with honey, egg whites and nuts, you'll find torrone in most cafes and candy stores on your travels throughout Italy. If you love the original torrone recipe, then you'll love the chocolate dipped version even more!
6. Pizza Margherita
Ad. Article continues below.
Forget everything you know about pizza, especially the addition of pineapples! In Italy, you can enjoy pizza margherita – a thin crust, crispy pizza topped with just mozzarella, parmesan cheese, tomatoes, basil, olive oil and garlic. It might sound simple, but it's actually very tasty. You'll be able to enjoy pizza margherita at any authentic pizzeria in Italy.
7. Gnocchi
Ad. Article continues below.
A genuine Italian gnocchi is far better than the gnocchi you might eat at home. It's basically a thick, heavy potato dumpling, served in a creamy source. For most travellers, it's a must try while in Italy. And the best bit is you can enjoy gnocchi with just about everything from a vegetarian meal to a seafood or beef, chicken or lamb dish.
8. Panna Cotta
Ad. Article continues below.
If you've got a sweet tooth then panna cotta might be the Italian dessert for you. The creamy white gelatin dessert is usually served with some sauce, such as caramel or berry. It might look like a solid dessert, but panna cotta is very lighty and creamy and it'll melt in your mouth!
What is your favourite Italian dish?