6 places in New Zealand that are unforgettable in the summer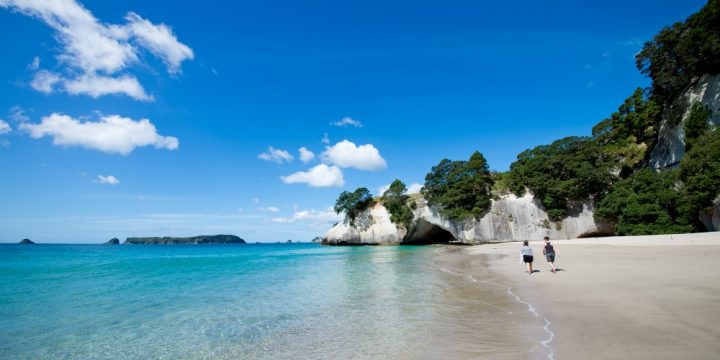 If you're looking for a summer getaway that's not all tropical islands and stifling heat, then look no further than across the ditch. New Zealand is relatively cooler than most of the surrounding places during the summer, and there's no snakes to worry about either! Summer is a great for you to explore some of New Zealand's most picturesque destinations. Here are six places that are unforgettable during summer in New Zealand.
Read more: Queenstown activities for adventurous travellers over 60
1. Queenstown
Ad. Article continues below.
Ahhh, beautiful Queenstown! No doubt you've seen the photos and heard the stories from friends who have travelled to this gorgeous area of New Zealand. It's one of the must-see places for tourists – and in summer, when the weather warms up, it's even better! If you're an adrenaline junkie, you can enjoy so many activities from jet boating to skydiving. But if you're more into relaxing or exploring, you can enjoy one of the many walks around Lake Wakatipu or take to the water and enjoy a range of water activities such as fishing and kayaking.
2. Bay of Islands
Ad. Article continues below.
Close to New Zealand's north most point you'll find The Bay of Islands, an area of scenic green islands, beaches, great blue sea and plenty of dolphins! You can swim, sail, surf or go on a dolphin safari, and if that doesn't appeal to you, you can always just relax by the sea on the beach. The Bay of Islands is also a historical site, it's where the Maoris and Europeans signed the historic Treaty of Waitangi.  If you're up for a drive, then the big sand dunes and Giant Kauri trees of Cape Reinga, New Zealand's most northern point are just four hours away.
Ad. Article continues below.
Read more: 10 things you probably didn't know about New Zealand
3. Lake Taupo
Ad. Article continues below.
In the middle of the North Island of New Zealand you'll find Lake Taupo, a gorgeous blue lake surrounded by more of the country's amazing scenery. While the weather is warm, you may as well take a hike on the National Park walk. The walk takes in Mt Ruapehu, which if you're a Lord of the Rings fan, was the site chosen as Mt Doom during the filming of the trilogy. From Mt Ruapehu you can see from one side of the coast to the other. If you're not up for a hike, you can always jump out of a plane. Lake Taupo is one of the most popular places to skydive in New Zealand.
Ad. Article continues below.
4. Lake Tekapo
Just like Christchurch and Lake Taupo, Lake Tekapo offers you some of the most pristine scenery in New Zealand. Located half-way between Christchurch and Queenstown, Lake Tekapo is home to just 400 people. But don't underestimate the town because of it's size. There is so much to see and do, and then there's always the stunning scenery of Lake Tekapo itself. You can enjoy a round of golf, some fishing, cycling or walking, or head over to Tekapo Springs and enjoy a tube ride, 11 metre tall water slide and hot pools – perfect if you're taking the grandies with you! But there's more than just the day time activities for you to enjoy. On a clear summer's night, the sky comes alive with stars. The sky above Lake Tekapo's Mackenzie Basin is among the top five places in the world to stargaze. You can star-gaze the heavens from the Mt John Observatory, enjoying a hands-on tour of the site and some snacks at the Astro Cafe.  One of the best things about Lake Tekapo is you can enjoy a range of accommodation options from luxury B&Bs to backpackers and four star hotels, and still enjoy the small town feel and pristine lake views.
Ad. Article continues below.
5. Kaikoura
Ad. Article continues below.
If you're looking for a combination of the ocean and New Zealand's stunning mountain scenery, you'll find at Kaikoura on the South Island. With its beautiful beaches, shallow rock pools and gorgeous scenery, it has something to offer everyone – and it's very family friendly if you want to take the grandkids on an adventure. You can snorkel in the shallows, swim with dolphins in the morning or go on a whale watching cruise. If you're in the mood for relaxing, why not enjoy fish and chips (or fush and chups if your Kiwi accent is strong) on the beach and unwind a little? There's so much you can do in Kaikoura from doing a few holes of golf in some of the most spectacular views in the country to doing some fishing or taking a bike ride around the town. Kaikoura is approximately 180km north of Christchurch.
Ad. Article continues below.
Read more: 5 scenic drives in New Zealand for travellers over 60
6. Hot Water Beach
Ad. Article continues below.
Sometimes there's nothing better than kicking back in a spa and enjoying the summer sunshine. In New Zealand, there's a place you can go to enjoy a natural spa – and it has great ocean views! Hot Water Beach on the Coromandel Peninsula on the North Island is a popular summer destination for tourists. Not only can you enjoy white sandy beaches, beautiful blue sea and some great scenery – it also serves as a natural hot spring. If you take a shovel and dig a hole in the beach, you'll hit nice, warm water to relax in – just like a spa! But there is a catch. You can only really experience the hot spa effect one hour before and one hour after the low tide. And it can get crowded, so get in early and soak up the experience. If the Hot Water Beach doesn't sound as interesting to you, there's plenty more you can enjoy on the Coromandel Peninsula including the Hahei Beach and Cathedral Cove.
Have you visited New Zealand during summer? Did you visit any of these destinations?