12 best beaches and islands in Thailand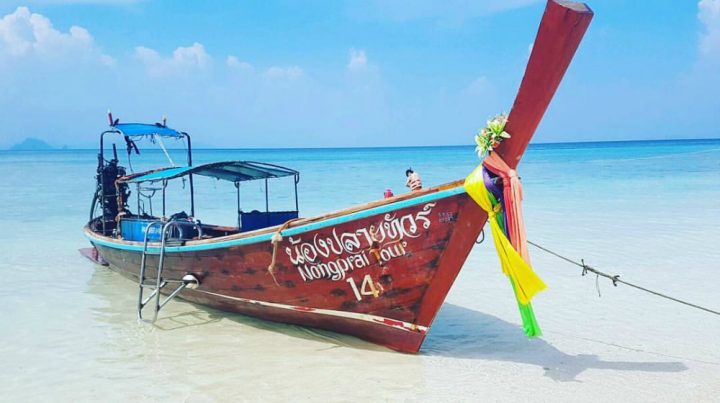 Thailand is one of the most popular overseas destinations for Australian travellers, especially Baby Boomers.
While most of us would associate Thailand with the hustle and bustle of Bangkok and Phuket, there's a whole lot more to see and do.
Thailand is home to thousands of idyllic islands and beautiful beaches with white sands and crystal clear waters. It's one of the ultimate tropical getaways!
Some of the country's most popular beaches and islands have featured as the back drops for many Hollywood films including James Bond: The Man With the Golden Gun and The Beach.
Despite the fact many of these island paradises were ravaged by the Boxing Day Tsunami back in 2004, they've bounced back to be as beautiful and picturesque as ever.
Ad. Article continues below.
From the iconic Patong Beach to the spectacular Phi Phi and Similan Islands, here are 12 of the best beaches and islands in Thailand.
1. Patong Beach
Ad. Article continues below.
One of Thailand' s most iconic and busiest beaches is Patong Beach. Situated along the bustling tourist town of Patong on the island of Phuket, Patong Beach is stretches for kilometres. Whether you want to lay back on a sun lounge under and umbrella, sun bake on a towel on the sand or do something more adventurous such as jet ski or parasail, Patong Beach has something for everyone. Everyday the beach is packed by thousands of people from around the world of all ages, cultures and sizes. The beach has flags for different 'themed' areas including an Australian area, British area and even an LGBT area. While you sit back and relax, local vendors walking the beach will offer you everything from cheap sunglasses to cocktails and fresh fruits – in fact, you really wouldn't need to leave your seat very often. While it can be absolute paradise on a good day, Patong Beach (particularly around the ocean itself) can be dirty at times and it can get very hot and very busy. But if you're staying in Phuket, it's not to be missed – even a walk up the beach in the morning or as the sun sets will do.
Ad. Article continues below.
2. Maya Bay/Ko Phi Phi Leh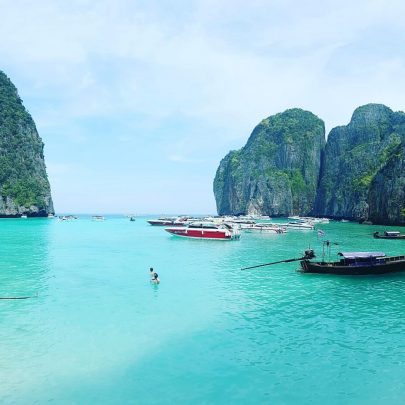 Thailand's most famous beach is on one of the iconic Phi Phi islands, off the south-east coast of Phuket. About an hour boat ride from Phuket, the beach around Maya Bay on Ko Phi Phi Leh is famous as the backdrop for the 2000 film the Beach, starring Leonardo Di Caprio. With its tall rocky mountains covered in jungle, white sandy beach and crystal clear waters, it's clear to see why Maya Bay is one of the biggest tourist destinations in Thailand. When you arrive on the iconic beach of Maya Bay, the first thing you'll notice is it's not nearly as isolated as it looks. On a busy day the beach will be packed with dozens of boats and hundreds of tourists, making it somewhat tricky to try and get the perfect photo on the beach. But regardless of the crowds, the beach and water are clean and beautiful, and it's definitely a slice of paradise. You won't want to miss it! Most resorts in Phuket and tour companies offer guided tours of the Phi Phi islands from as little as $80 (AUD) and Maya Bay is always a stop on the tour.
Ad. Article continues below.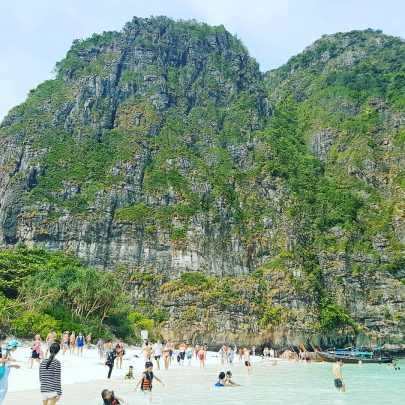 Ad. Article continues below.
3. Ko Phi Phi Don
Aside from Maya Bay, Ko Phi Phi Don is the most popular of the Phi Phi Islands. It's home to numerous resorts and beaches, and it's the largest of the Phi Phi Islands. As with Maya Bay, the waters around this island are crystal clear and the beaches are pristine, white sands. It's the perfect spot to stay a few nights, sip cocktails on the beach and watch the sun rise and set over paradise.
Ad. Article continues below.
4. Karon Beach
Ad. Article continues below.
If you're staying Phuket and the hustle and bustle of Patong is too much for you, then a short trip to Karon Beach might be just what you need. Located just 8km from Patong, Karon Beach is a popular option for families and couples who want to keep away from the busier tourist centres of Phuket. Although it was heavily damaged by the Boxing Day Tsunami in 2004, Karon Beach has been restored to its former glory. There's no where near as much activity on this beach as Patong, so you'll be able to kick back, relax and not be hassled as much by local vendors.
Ad. Article continues below.
5. Koh Samui
Ad. Article continues below.
For those who find Phuket and its bustling tourist streets a bit too much, then Koh Samui is the best island and beach alternative. It's home to some of the best beaches in Thailand, lined with palm and coconut trees, luxury resorts and budget bungalows to suit travellers of all budgets. It's a much more relaxed atmosphere than the busy tourist areas of Phuket, perfect for sipping a cocktail by the beach in peace. It's located in the Gulf of Thailand, south-west of Bangkok and north-east of the Phang Nga province on the mainland.  Aside from the beach and the gorgeous waters, Koh Samui is home to a giant golden buddha statue and various temples (wats) for you to explore.
Ad. Article continues below.
6. James Bond Island (Khao Phing Kan)
Ad. Article continues below.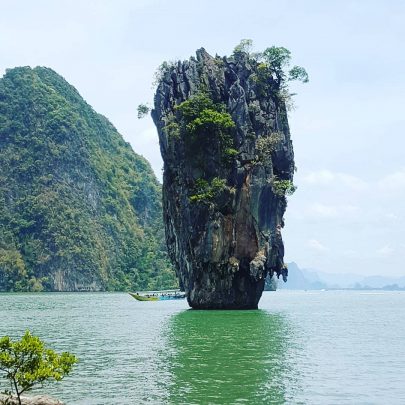 As the name suggests, this island in Phang Nga Bay off the east coast of Phuket, is famous as the backdrop of the 1974 film James Bond: The Man With the Golden Gun starring Roger Moore. It's another iconic Thailand tourist destination, recognised for  the towering limestone pinnacle that rises out of the water off the beach. The island itself is small and you can walk around the main walking areas in 15 to 20 minutes. The main beach itself isn't very big, but don't worry there are plenty of great vantage points along the walking track to get photos of the iconic limestone tower in the water. There are also a few caves to explore, as well as a few souvenir stalls to browse (just remember that it's illegal to take seashells out of Thailand and into Australia).  As with Maya Bay, this island can become very busy with tourists and on a bad day you'll have to patiently wait to get your perfect photo from the island. Most resorts and tour companies in Phuket run guided tours to James Bond Island, starting from as low as $80. Many of these tours will also take you to other islands in Phang Nga bay such as Koh Hong and Koh Panyee.
Ad. Article continues below.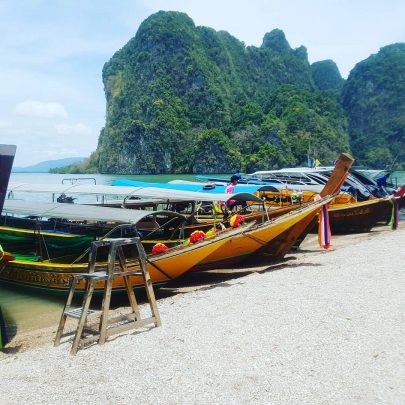 7. Koh Panyee
Ad. Article continues below.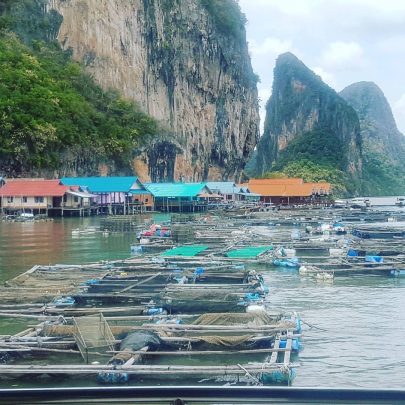 A lot of tourists who visit James Bond Island also make the short half an hour to an hour trip further up Phang Nga Bay to Koh Panyee. The small island is home to a Muslim fishing village, built entirely over the top of the water. It's a hit with tourists and gives a rare insight into the lives of the people who live off the islands of Thailand. Like back on mainland Thailand, Koh Panyee is full of stores selling all kinds of souvenirs, food and clothes to tourists. But one of its most famous exports is pearls. Many tourists make the trip specially to Koh Panyee to buy pearls and sample the seafood caught by the local fishermen.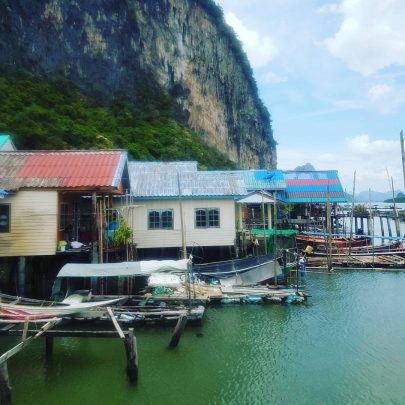 8. Koh Hong (Hong Island)
Ad. Article continues below.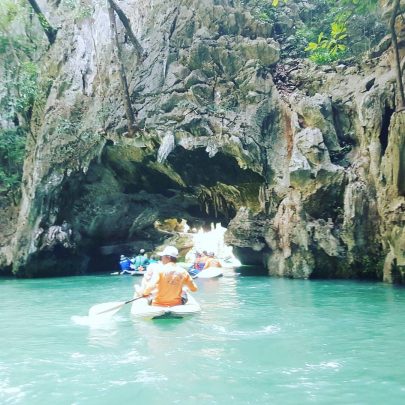 If you love to go canoeing or kayaking, then a trip to Koh Hong might be the perfect thing for you to do. Among the dozens of islands in Phang Nga Bay off the coast of Phuket, Koh Hong is one of many islands that tourists can canoe or kayak in and around caves and hidden lagoons. Most tourists stop off at Koh Hong on the way to James Bond Island for a quick half an hour canoe or kayak through the lagoons and caves at the southern part of the island. But depending on who you tour with, you might be lucky enough to get glimpse of the lovely beaches and swimming water of the northern parts of the island. The caves of the island and the hidden lagoons are a wonder for the tens of thousands of tourists who visit each year, and like many of the islands in Phang Nga bay Koh Hong also has tall limestone rocks towering out of the sea.
Ad. Article continues below.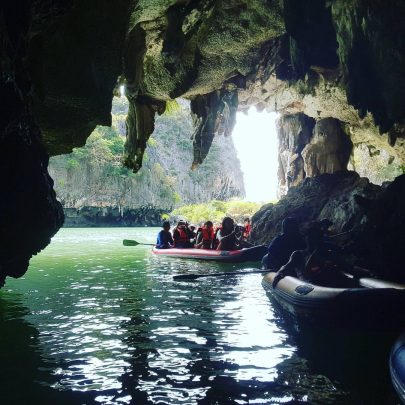 Ad. Article continues below.
9. Naka Island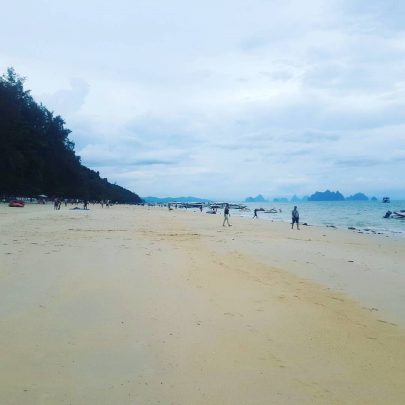 Located in Phang Nga Bay, Naka Island is similar to both the Phi Phi Islands and Patong Beach. It's home to a popular tourist beach, bustling with tourists visiting on day tours from James Bond Island, and a resort on the other side. It's one of the only islands in Phang Nga Bay with a jetty, making it a very popular option for tour boats. On Naka Island you can sit by the beach under an umbrella, lay back in a sun lounge or sit on a swing and enjoy a cocktail from the tiny beach bars. Just like Patong Beach, Naka Island has plenty of fun activities including parasailing and jet skiing. Although the island is peaceful, be prepared to be offered everything by vendors –  from photos with little monkeys to cocktails as you make your way up and down the beach.
Ad. Article continues below.
10. Bamboo Island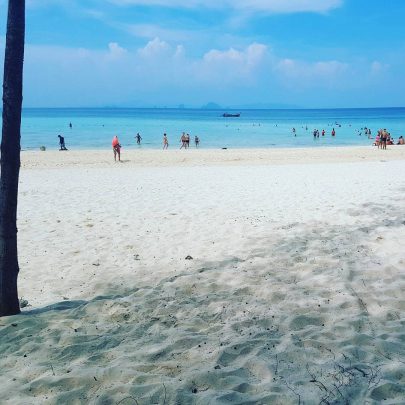 Another one of the picturesque Phi Phi islands popular with tourists is Bamboo Island. This small island is surrounded by clear blue ocean, white sandy beaches and as the name suggests, it is home to towering bamboo thickets. Just like the beach of Maya Bay, this island can become quite crowded. But it has much more beach and a shady resort area for visitors, so there is more space for people to move around. The shallow waters are perfect for swimming and the sandy beaches are a great spot to sunbake, sip cocktails and take plenty of holiday photos. Bamboo Island is also a great spot for snorkelling. If you visited the other Phi Phi islands as part of a tour, then chances are you'll also make a stop off at Bamboo Island. It'll make you feel like you're in Hawaii or the Caribbean!
Ad. Article continues below.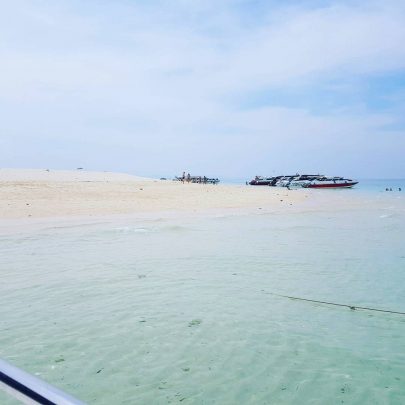 Ad. Article continues below.
11. Similan Islands
Off the north west coast of Phuket lies the spectacular Similan Islands – a group of nine islands that are a haven for snorkellers, divers and beach lovers alike. The islands are named as one of the top ten diving sites in the world, and they're home to some of most pristine beaches and sea life on the planet. Because they are some of the furthest islands from the coast of Thailand, the Similan Islands were one of the first areas of Thailand to have felt the effects of the Boxing Day Tsunami back in 2004. Luckily, they've recovered well over the years and are as popular as ever with tourists. If you want to visit the Similan Islands, you can either stay at one of the accommodation options on the islands themselves or take a day trip from Khao Lak on the mainland or Phuket.
Ad. Article continues below.
12. Khao Lak
Ad. Article continues below.
On the south-western part of the Thai mainland in the area known as Phang Nga lies the popular seaside holiday destination of Khao Lak. The low-lying area is popular with tourists from across the world, particularly Australia. Sadly it was one of the hardest hit areas during the Boxing Day Tsunami in 2004, and had the highest death toll of any other area of Thailand. Luckily Khao Lak has been rebuilt and it remains a hit with tourists for its stunning beaches and seaside resorts. Unlike Phuket, Khao Lak isn't dominated by high rises. Instead it's home to smaller bungalow type accommodation and it's a very family friendly area if you're considering taking the grandies on holiday.
Ad. Article continues below.