10 of the best bookshops around the world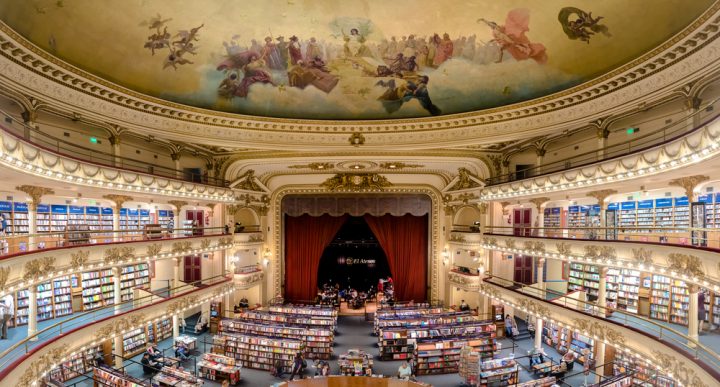 There are few things more magical than walking through a bookshop. Whether you're looking for a literature classic, a guide book or just a bit of shelter in the rain, the bookshop is a wonderful place to visit during your travels. Here are some of the best from around the world that are worth visiting at least once in a lifetime. Which are your favourites?
Read more: Visit the Italian Grande
1. El Ateneo – Buenos Aires, Argentina
Ad. Article continues below.
An old theatre turned into a bookshop in downtown Buenos Aires, El Ateneo still keeps much of its former grandeur. Designed in 1919 by architects Peró and Torres Armengol and turned into bookshop 81 years later, readers can still see the high painted ceilings, balconies, carvings and even the theatre curtain. The stage is used as a reading area and café, with the former theatre boxes available as tiny reading rooms.
2. Shakespeare and Company – Paris, France
Ad. Article continues below.
Opened in 1951, this Paris Left Bank fixture looks like something straight out of a Hemingway book, and for good reason. It is the spiritual successor and namesake of the first Shakespeare and Company, run by expat American bookseller Sylvia Beach and immortalised in Hemingway's memoir, "A Moveable Feast." She was forced to close it during the second world war in 1941, after refusing to sell to a Nazi officer, but in 1958 gave her blessing for another – called Le Mistral – to take the Shakespeare and Company name.
From its opening day, the second Shakespeare and Company has incorporated writers' residencies. Up to four scribes can spend the night in the store, with most staying a week to a month.
3. Librairie Avant-Garde – Nanjing, China
Ad. Article continues below.
China's most beautiful bookstore is located inside a massive underground parking lot once used as a bomb shelter.
The 4,000-square-meter store's unusual features include large crosses, a copy of Rodin's "The Thinker" and a checkout counter built out of thousands of old books.
The store also functions as a sort of public library, with more than 300 reading chairs.
4. Livraria Lello – Porto, Portugal
Ad. Article continues below.
A little over 100 years old, this gem in Portugal's second city remains one of the world's most stunning shops – perhaps of any kind. Competing for attention with the books are wrap-around, neo-Gothic shelves, featuring panels carved with Portuguese literary figures.
A track, used by the staff for transporting stock in a cart, leads from the entrance to the lolloping red staircase, which winds up to the first floor like an exotic flower. Books are available in English as well as Portuguese, and there's a small cafe upstairs beneath the stained-glass skylight.
Ad. Article continues below.
If your grandkids are fans of Harry Potter and you've watched the movies too, this place might look familiar. It was the inspiration behind the Hogwarts library that was shown in the movies!
5. Assouline Venezia – Venice, Italy
Located on the ground floor of the Bauer Hotel, a restored 18th-century palazzo, this boutique opened by luxury publisher Assouline in 2014 is a study in beautiful interior design.
Ad. Article continues below.
The store stocks many of the label's most expensive books, such as handcrafted volumes from its Ultimate Collection – priced from $500 to $7,000 – which range in subject matter from fashion and architecture to travel and lifestyle.
6. Powell's City of Books – Portland, Oregon, USA
Visitors should set aside a good two to three days to get lost in this iconic Portland landmark. This legendary Portland shop is the world's largest used and new bookstore – the jewel in the crown of what is claimed to be the largest independent chain of bookstores on the planet. New and used editions are shelved side by side, giving customers a handy choice of price options.
Ad. Article continues below.
It  is housed inside a modest, multi-level building that takes up a full city block and is often crowded. Powell's even provides a map for customers.
The staff's passion for reading shines through on the store's treasure of a website, which features an entertaining book blog in addition to a comprehensive and ambitious online store.
7. Books for Cooks – Melbourne, Australia
Ad. Article continues below.
Housed in a 150-year-old former speakeasy, on one of Melbourne's most interesting streets, this small bookstore is the only retail shop in Australia specializing in cookbooks.
Every type of cuisine and culinary category imaginable can be found on its floor-to-ceiling shelves.
Treasures include several beautiful 18th-century culinary books.
8. Strand – New York City, USA
Ad. Article continues below.
Back in the 1920s, six blocks of Manhattan's Fourth Avenue were known as "Book Row." Of the 48 bookstores that gave the district its name, Strand is the only survivor.
Ad. Article continues below.
It's almost a crime to visit the Big Apple without stopping at this magnificent independent bookstore next to Union Square. With exquisitely curated aisles and shelves, a great selection of both new and incredibly random second-hand bargains, rares and collectibles, and a wonderful programme of events, this is a New York institution to treasure.
After moving to its current location on Broadway and 12th Street, the beloved NYC store built up a staggering catalog that now includes 2.5 million new, used and rare books.
9. City Lights Books – San Francisco, California, USA
Ad. Article continues below.
A destination in its own right for any visitor of San Francisco, City Lights was founded in 1953 by poet Lawrence Ferlinghetti and Peter D Martin, and it was not only a place of congregation for authors of the Beat generation but also featured in many of their works.
The first all-paperback bookshop in the US, City Lights has always published as well as sold, a tradition it maintains to this day with more than 20 new titles published each year. You can also pop across the street to Vesuvio Cafe where Kerouac, Ginsberg and co used to hang out.
10. Stanfords – London, England
Ad. Article continues below.
This large and airy store in the heart of London's Covent Garden should come with warnings of itchy feet. To gaze across the shelves in Stanfords – known to be one of the world's finest travel book shops – is to consider a world of adventurous opportunities.
For those embarking on a trip into the Great Unknown, no matter how unknown the Unknown is, Stanfords probably has not only a guidebook, but a fold-out street map detailing where to find the Unknown's best cocktails.
There's also a comprehensive selection of travel writing, including many obscure texts. For those looking for that little known account of mountain prawn hunting in Bhutan, or crossing the Kalahari on a spoon, Stanfords is a safe bet.
Are you an avid reader? Which of these bookshops have you been to, and which others would you recommend?