10 Mistakes first-time cruisers make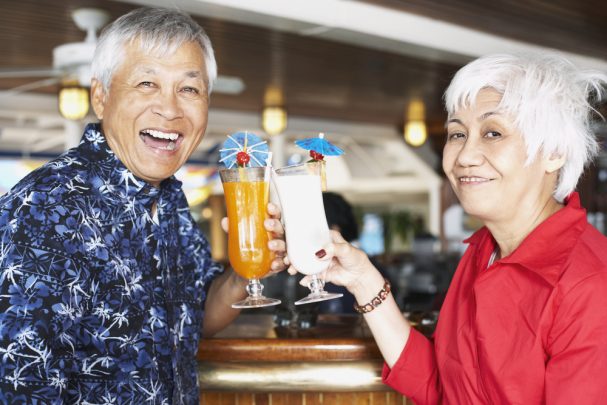 There are so many things to think about when it comes to planning your first cruise, so it's not unheard of for first-time cruisers to make some mistakes along the way. But here is our list of mistakes first-time cruisers often make and how to make sure you don't on your first trip out to sea.
Read more: Tips for first-time cruisers from the Travel at 60 community
1. Alcohol costs
Being on holiday is all about relaxing and having a good time, and for some people that includes a cold beverage during the day or with an evening meal. But those drink costs can quickly add up. If you're adding drinks upon drinks onto your bill throughout the cruise, you might find yourself being given a hefty bill that you hadn't budgeted for. Instead of buying your drinks as you go, try and get cheap drinks on your cruise, or buy a drinks package so you know exactly what you're spending as you go.
2. Reusable water bottle
Ad. Article continues below.
Filtered water is usually available at water stations throughout the ship, but it pays to have an easily accessible bottle of water on you at all times, especially when you're on deck, enjoying activities or in your cabin. Bring along a water bottle so you can refill it as you go.
3. ATM fees
Cruises are cashless premises, so you'd be forgiven for just bringing your ATM card and not really expecting to use it. But if you do need to withdrawal cash as you go, just remember you will be hit with a large transaction fee that can often go up to $10 per transaction. Always bring cash with you to avoid this added expense.
4. Spa treatments
A massage or a manicure is a great way to relax and unwind during a holiday, but be aware of the hard sell that will most likely occur afterwards. A nice bottle of body lotion might just set you back a whole lot more than it would on dry land, so be wary of the prices you're paying before you get too excited.
Ad. Article continues below.
Read more: How to get the most out of a river cruise
5. Cruise cabin cards
Remembering that cruises are cashless areas, the cruise line will have your credit card number on file and will charge your cruise cabin card just like a credit card if you purchase products and services. Be aware of the prices you're paying before you say yes to anything.
6. Data roaming charges
Uh oh, if you forgot to turn off your mobile phone data while you're on a cruise, then that is going to be one expensive mistake. And if you think uploading a simple photo or making a quick phone call won't break the budget, think again. Connect to the Wifi instead and don't get a shock when you get your next phone bill.
Ad. Article continues below.
7. Formal wear
Being a first-time cruiser, you might not think it entirely necessary to pack a ball gown for the formal dinner evenings, but you might just feel out of place when you see everyone else getting all dolled up. At least pack an outfit that you can dress up with accessories, makeup and jewellery.
8. Excursions
Off-shore excursions can be bought through the cruise line itself, which is a great idea if you're worried about not being back at the boat in time, but you can stand to save some money if you buy the excursions from other companies at port. It's really up to you and what your budget and time management skills are like.
9. Sticking to a budget
Ad. Article continues below.
Remember, at the end of the day, this is your holiday and your budget, so it's important to remember to stay within your means. It might be fun to go all out and spend up big while you're on holiday, but remember that you're going to be left with the bill at the end of it. Stick within your budget and have a blast with what you can afford.
10. Free activities
One of the best ways to stick within your budget is to organise free activities as you go. There are plenty of free events and activities on board that will have you meeting people and having fun regardless of how much money you spend.
Do you have any other tips for first-time cruisers? Let us know your tips in the comments section below.