Our three-day cruise happened to include Father's Day and it was heartwarming to see the number of family groups enjoying a very special time with Dad. Our cabin stewards also acknowledged the day by giving us special towel art.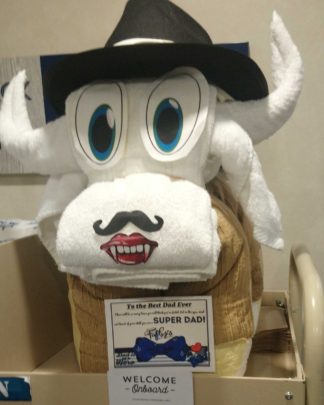 I would like to share the whole experience with you. I need to use a walking stick, which impacts the distance I can walk. As soon as I stepped out of the taxi, I was greeted by a P&O employee asking if I needed assistance. After a brief discussion about the difficulty I might face boarding, I was comfortably seated in a wheelchair, taken through the registration process and then wheeled aboard in grand style. I was also advised where to wait when disembarking. The people who assisted me were unfailingly pleasant.
I arrived somewhat in advance of boarding time and consequently, our cabin was not ready. Rather than telling us to "wait there", we were directed to The Pantry to enjoy lunch and advised that our cabin would be ready no later than 2pm. What a way to wait! A great fresh lunch with a view of Sydney Harbour and the Opera House is on my itinerary at any time!
I don't know if our cabin was ready at 2pm because we decided to explore the decks. Awesome idea, except that this was the day mother nature decided to turn on winter for us northern dwellers and the wind was strong and the temperature low. Nonetheless, yours truly and her intrepid companion (the long-suffering Grumpy/Gorgeous Old Man) walked aft of the ship to look at the Harbour Bridge and the Rocks. Despite the attraction of standing on the open deck to sail past Sydney's icons and beautiful harbourside suburbs, it wasn't long before we found a more protected area and ordered a hot warming coffee.
Suffice to say, sailing on Friday and Saturday was not for the faint-hearted, there was a pronounced roll and the odd wave seemed to hit quite high on the ship's sides. Surprisingly GOM and I both have quite stable sea legs and weathered the storm (pun intended) with no ill effects. Our cabin was warm thanks to adjustable air-conditioning and the beds were so comfortable, I wanted to pack the pillows in my already overstuffed luggage. There was plenty of storage/hanging space and the compact bathroom was more than adequate for our needs.
On Sunday the sun came out, fur coats were discarded in favour of bikinis and those suffering from seasickness discovered cruising was fun after all. Had the most delightful lunch sitting in the sun; typical humans, we were now trying to find shade!
When we arrived in Sydney on Monday morning the sight of sunrise, with the sun sitting just to the left of the Opera House reminded me again how beautiful Sydney is.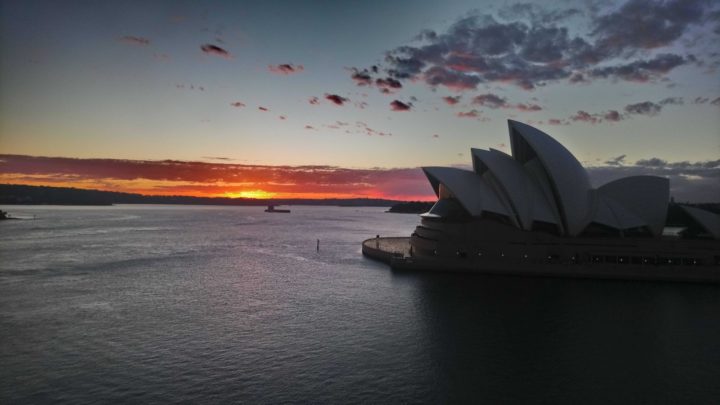 I truly wanted to stow away and sail to Tangalooma later in the day, or even longer to the islands. I can assure you, it won't be long before GOM and I do just that, particularly when the Pacific Explorer relocates to Brisbane in 2020. Having now experienced a cruise where kids are actively encouraged, whilst remembering that some people would prefer peace, I see that with good design, creating, dare I say age-appropriate spaces, all generations can enjoy their holiday their way. I finally understand how my friend went cruising with her two generations of descendants.
Sincere thanks to my hosts and to the awesome people who went out of their way to ensure their guests, including me, thoroughly enjoyed the Pacific Explorer Comedy Cruise.
You may notice I've only skirted around the food — well that is a whole other story — watch this space.
Disclaimer: The author was a guest of P&O Cruises Australia, which included accommodation on Pacific Explorer, tours and on-shore excursions. However, none of the parties reviewed or approved this blog and the opinions contained within are the author's own.