Continuing on I came to a building I fancied and pulled up. Its name was Sheene Mill and I had no idea what it was but, just as I was about to hit the shutter, a bride in an expensive gown filled the doorway. Some days you just get lucky.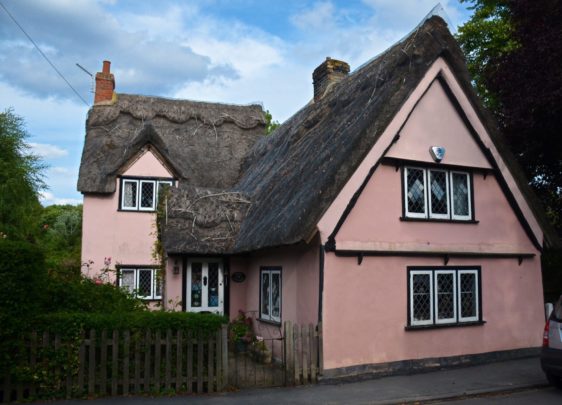 I drove further down the side road that led to the course. First thing I noticed was a thatched cottage but, it was remarkable in that it was painted, wait for it, in pink! I later learned that it's called Suffolk Pink. Then there were, about every sixth house, more thatched and Tudor style houses. My first opportunity to park came down the road aways, opposite a church with ringing bells. Perhaps they'd heard I was coming? Best to go and say hello, I thought as I moved past the usual lichen-coloured slabs of the deceased and chanced my arm on the door and there they were, off to the left, bellringers, all eight of them, faces strained with the effort of pulling the long ropes.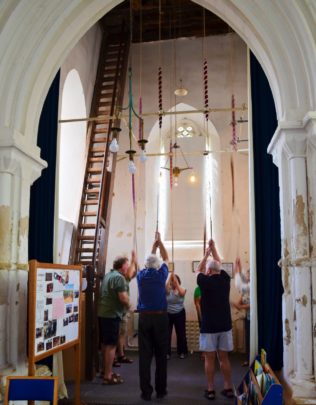 They didn't seem overly pleased that I took a couple of snaps so I moved outside once more where the uplifting tones of their labours shrilled through the twilight air as I drifted towards the sign adjacent to my car. It said, 'Melbourn 1' and was adorned with a figure in walking mode. I assumed it would take me through the woods and I could return on the road with the special houses, so I set out, past the London Plane trees down a leafy path not three people wide.
It was a form of bliss, brushing past the new summer foliage, across a small bridge which lay just downstream from an old mill race that rushed beneath a house. Then I reached a gate with a sign that said, 'Beware of Angry Bulls'. Strolling past I entered a field surrounded by trees and, yes, there were cattle present. As I passed them I noted that a white one appeared less than enamoured of my presence but I continued in a non-confrontational mode and came upon a couple who'd just entered the paddock.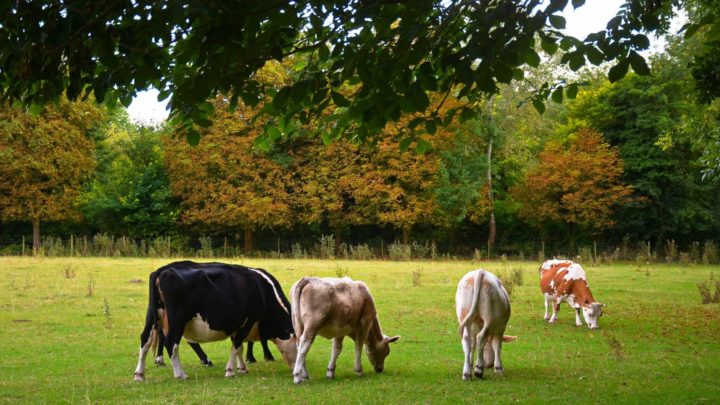 The older man, of somewhat mousy appearance and seemingly shy of bovine experience, stopped me and enquired, "Excuse me sir, could you tell me if the cows are dangerous?"
"I can honestly say that, in a lifetime of experience, I couldn't say yes and I couldn't say no. It's the first time I've ever been here!"
"Oh, thank you" he said, somewhat bemused, and moved off.
Through the gate at the end and back beside the rushing stream I strode, with vestiges of habitation beyond the leafy trees and with notices that local groups had cleared the path on which I moved. I passed a man walking his dog and then came to a somewhat disconcerting billboard. It stated, 'Permissive Path — The use of this path is for patrons of the Queen only. The land owner does not intend for this path to become a public right of way'. There was also an illustration of a crown. It was all so upper class England it made me sad to think of the divide that still firmly exists. Thank goodness it was on a path that ran off the one I was on.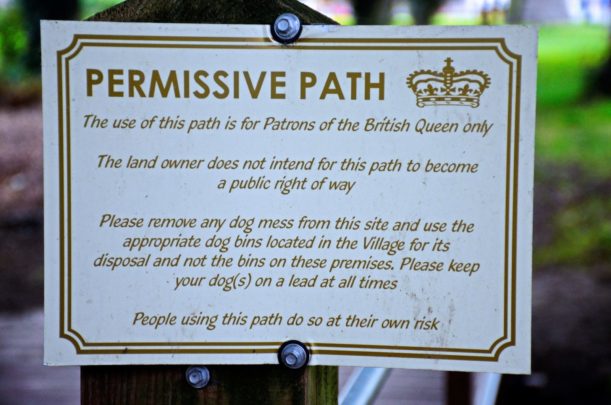 Then, as I'd hoped, a right side exit appeared and I took a short close to the main road, past a man who bailed me up, apologised for having had a stroke, and wanted to know if I was a birder. I felt apologetic as I explained that I was a photographer with an interest in nature rather than a hard core twitcher but he described the bird to me anyway. I told him in Australia I would suggest it was a dollar bird but that I had no idea what his sighting might be because they don't exist here.
Then I was in the street, intoxicated yet again by thatched cottages which made light of the 1.5 kilometres back. It had been a special afternoon, impromptu by design but delightful in execution.
Been travelling? Travel at 60 wants to publish your story. Simply sign up as a contributor and submit your stories. When your story is published, you'll go into the draw to win some great weekly prizes. You can also join the Travel at 60 Travel Lovers Club on Facebook to talk to other travellers in the Travel at 60 community.