A lone bird plunged optimistically now and then seeking anything to help keep it alive. To access the area I had to climb over a gate, one that had remained closed for some considerable time judging by the cluster of blown sticks gathered around the base and the rusty state of the four pieces of wire that held it shut.
Beyond was desolation. Plants that hadn't dropped seed because there was no prospect of growth, low branches totally bare of any sign of life. If that wasn't bad enough, half a dozen rabbits scattered before my presence, scurrying to their burrows in the dam wall, leaving only puffs of dust.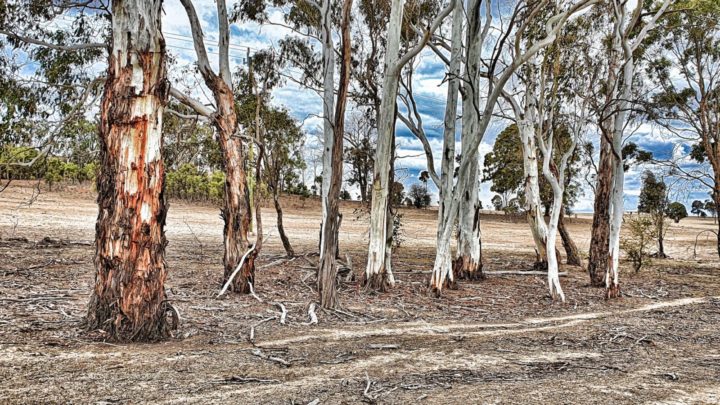 Birds squawked, their feathers ruffling, high on dead branches that barely flexed in the stiff breeze that cruelly eked any last moisture from the parched soil. A twig snapped beneath my feet, another of the sounds of drought. In the background, green willows seem to mock the current harsh times, but they're sucking the dregs of the dam water.
When I drove away, it was to a place I've held dear over the years. It's called Dangars Lagoon. It's a wildlife refuge, mainly for waterbirds, because this pondage supports a significant population of such animals. Now it's just a dried up wasteland, scavenged only by magpies and a few wrens.
As if to make it seem worse there's been a fire through here that has all the hallmarks of being man made. It contrasts markedly with some green vegetation out in the middle that ekes an existence out of the subterranean moisture while it can. The hills in background are coloured only by the dark green eucalypt leaves and the sorry brown earth they rest upon.
I hope next time I come through there will be more shades of green, animals in pasture and a wildlife recuperating. Until then, it's hard to get joyous about what confronts us.
Been travelling? Travel at 60 wants to publish your story. Simply sign up as a contributor and submit your stories. When your story is published, you'll go into the draw to win some great weekly prizes. You can also join the Travel at 60 Travel Lovers Club on Facebook to talk to other travellers in the Travel at 60 community.