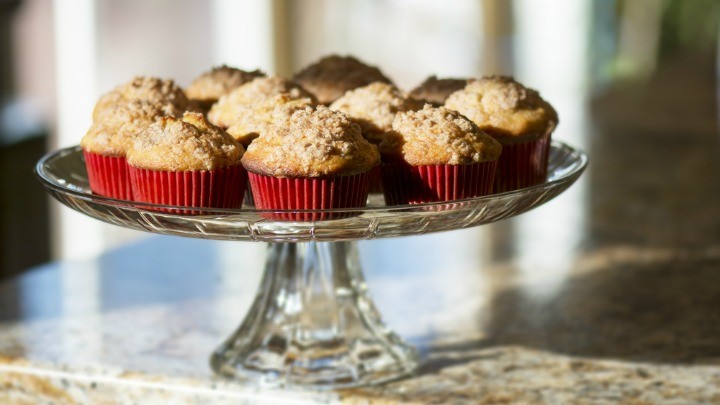 Muffins are always a good idea, and these allspice ones are some of the best ever. The lovely crumble topping adds a delicious finish, with the allspice adding the perfect hint of autumn flavour. Serve them up while they're still warm and add a dollop of cream for a real treat. Yum!
Ingredients
For the crumb topping:
½ cup plain flour
½ cup light brown sugar
½ teaspoon allspice
5 Tablespoons cold unsalted butter, cut into small cubes
For the Muffins:
2 cups plain flour
½ cup caster sugar
1 Tablespoon baking powder
½ teaspoon allspice
¼ teaspoon salt
¼ cup light brown sugar
8 Tablespoons unsalted butter, melted and cooled
2 large eggs
¾ cup whole milk
1/2 teaspoon vanilla extract
Method
1. Preheat oven to 180°C. Grease a 12-hole muffin tray and set aside.
2. To make crumb, put the flour, brown sugar, and allspice in a small bowl and whisk to combine. Add the cold butter and toss, pinching mixture between your fingers, until you have pea-sized crumbs. Set aside in the refrigerator.
3. To make muffins, in a large bowl whisk together the flour, sugar, allspice, baking powder, and salt. Stir in brown sugar, making sure there are no lumps. In another bowl, whisk together the melted butter, eggs, milk and vanilla extract until well combined. Pour the liquid ingredients over the dry ingredients and with the whisk or a rubber spatula, gently but quickly stir to blend. The batter will be lumpy; that is how it should be.
4. Divide batter evenly among the muffin tray holes. Sprinkle crumb over each muffin, then use fingertips to gently press the crumbs into the batter.
5. Bake for about 20 minutes, or until the tops are golden and a skewer inserted into the centre of the muffins comes out clean. Transfer tray to a wire rack and cool for 5 minutes before removing muffins. Cool completely on the wire rack. Muffins can be stored, in an airtight container, at room temperature for up to 5 days.
—————————————————–
If you'd like to see more recipes from Starts at 60, click here. And if you have a recipe you'd like to share with the Starts at 60 community – we'd love to share it! Submit them to us by completing the form below.
Submit your article here
Comments