Here's what will happen to the Playboy Mansion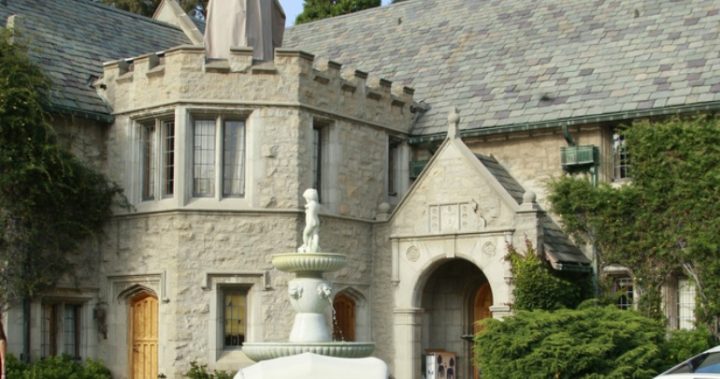 At the age of 91, Hugh Hefner passed away from natural causes, which means we're about to see a massive change for Playboy.
Cooper Hefner, the youngest son of the media mogul, has always been slated for a prominent place within Playboy Enterprises. Taking over as creative director, Cooper is passionate about continuing his father's legacy while extending Playboy's reach on social media platforms.
With Playboy Enterprises still under one Hefner's watchful eye, the biggest change will come when the Playboy Mansion officially changes hands.
Read more: Hugh Hefner dies, aged 91 
Ad. Article continues below.
Back in 2016, the Mansion sold with the special caveat that Hefner would continue to live there until his death. Businessman Daren Metropoulos scored the Los Angeles estate for US$100 million – half its asking price.
Embed from Getty Images
Hefner famously purchased the property in 1971 for US$1.1 million, but reportedly spent US$15 million customising the Mansion to his own personal tastes.
Hef's death signals that his third wife, Crystal Harris, will have to find a new place to live, and she'll have to do it on her own dime. According to The Sun, Harris and Hefner's 2012 prenuptial agreement – and the fact that Hefner didn't add her to his will – means Harris will not inherit anything from the US$43 million estate.
Ad. Article continues below.
Read more: Hugh Hefner's wife stiffed in millionaire's will 
With Harris and Hefner no longer residents of the Playboy mansion, Metropoulos is free to finally do what he wanted with the property when he first purchased it.
The Playboy mansion boasts 29 bedrooms, a grotto and a zoo, among other extravagant features, but that doesn't seem to be enough to tempt its current owner. Metropoulos also purchased an adjoining home from Hefner's ex-wife, Kimberely Conrad, in 2009 for US$18 million.
Ad. Article continues below.
"I look forward to eventually rejoining the two estates and enjoying this beautiful property as my private residence to come," Metropoulos said when he first purchased the dwelling.
Combined, the properties would create a 7.3-acre compound.
Another of Metropoulos's comments indicates that the Playboy Mansion will at least remain intact after its renovation, as he called it "a true masterpiece in design".
Will you miss hearing about the Playboy parties?