Retirement 'cities' could be the future of retirement living in Australia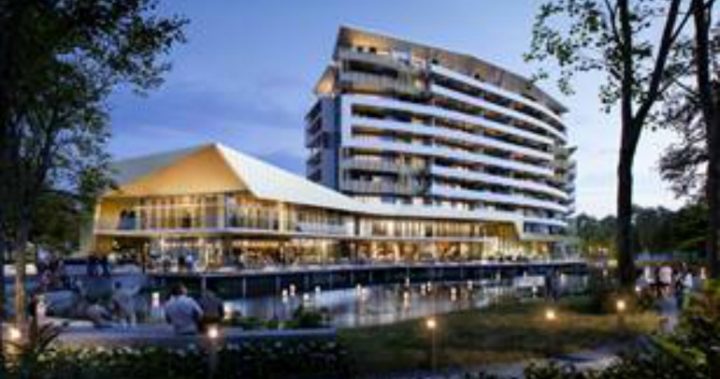 Retirement villages have become a popular option for older Australians when they decide to retire and down-size.
But as the shift heads towards higher density in the cities, experts predict you could soon be opting for retirement 'cities' instead.
Consulting group RPS told the Courier Mail that retirement living was moving from low density villages to high-density "retirement cities".
RPS Brisbane regional technical director for economics Mark Wallace said Baby Boomers want different lifestyle options to previous generations when they retire.
"We need to start thinking in terms of retirement cities rather than retirement villages, where there are integrated, mix-use environments with a diverse range of housing options, resident conveniences and multiphase options for health and aged care," he said.
Ad. Article continues below.
You might be wondering what a "retirement city" is.
Well, a retirement city is designed for the whole community – featuring facilities such as childcare, shops, dining, parks and community centres.
Mr Wallace said social isolation was a problem for older people who stay in their family home alone.
"Ageing precincts which focus on social integration as well as resident welfare, wider housing choices and innovative uses of modern technology will go a long way to addressing this," he said.
These "retirement cities' are starting to turn up all around Australia.
Ad. Article continues below.
One of the companies taking the lead on this new retirement living trend is Aveo.
CEO Geoff Grady said several of the company's new developments such as Aveo Newstead and Aveo Springfield in Queensland, and Aveo Bella Vista in New South Wales followed the model of retirement cities.
"The shift from traditional retirement models towards more integrated, mixed-use retirement living communities where social integration as well as resident welfare, wider housing choices and innovative uses of modern technology is something that Aveo is proud to be spearheading in Australia," he said.
"The needs of retirees today are changing and we know that our future residents, including today's baby boomers want to continue to stay in familiar suburban areas and remain connected and active within their local community when they retire.
"These medium to high density vertical living communities afford residents the convenience of being situated nearby cultural and inner-city precincts, with the added peace of mind that they can access health and care services as and when they need it."
Ad. Article continues below.
So, what are the benefits of 'retirement cities'?
One of the biggest benefits pointed to by aged care providers and experts is greater interaction between the community and the residents.
Read more: The new trend in retirement living that's taking off in Australia
Mr Grady point to research that shows the benefits of intergenerational interaction for youths and the elderly.
"While traditional self-contained retirement living meant living apart from surrounding communities, Aveo prides itself on creating age-friendly, intergenerational villages that blend seamlessly into neighbouring districts by linking shared outdoor spaces amenities such as hairdressers, cafes, and shops," he said.
Ad. Article continues below.
"Many residents have a lifetime of knowledge and expertise to share with younger generations, and we hope this partnership will foster lifelong learning to enrich the lives of residents and students alike.
"In the future, we will also work with the University of Queensland on various world-first studies into positive ageing which will ultimately help inform future care programs to offer greater support for our residents."
According to statistics, one in four Australians will be aged over 65 by 2050 – meaning within 30 years Australia's retirement and aged care market will need to be two and half times bigger.
Mr Grady said there was a definite shift in the types of retirement living being built to meet the demand.
"Retirees are just as discerning as any other buyer and different market have different expectations of retirement living," he said.
Ad. Article continues below.
"We are proud of our national offering, with a wide selection of housing and care options to meet the needs and requirements of all retiring Australians – whether they want to remain living in middle-ring suburbs, move to an urban high rise apartment or retire on a golf course, the choice is theirs."  
Mr Wallace said Aveo Springfield was an example of the trend towards high density integrated retirement living.
"It's a very different approach and not something that has ever been done in Australia before," he said.
The goal of Aveo Springfield, according to Mr Grady, is to bring residents and the community together with retail, cafe, recreational, health and wellness facilities.
"Aveo Springfield will be an integrated, purpose-built environment unlike anything currently available in the retirement living sector," he said.