The new trend in retirement living that's taking off in Australia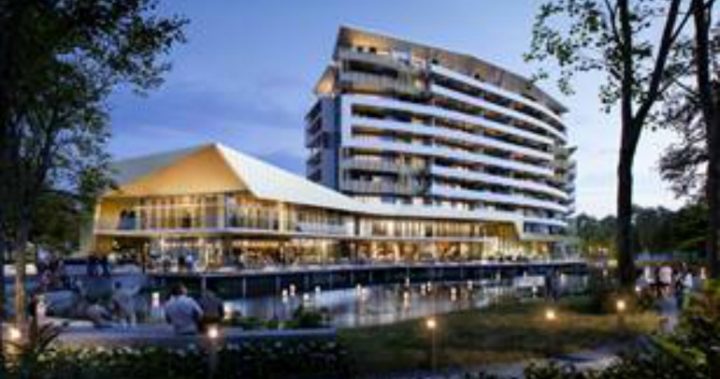 When you retire and start thinking about downsizing, one of the biggest choices you face is what to do next.
If you've considered retirement village living, you know just how many variations there are – accommodating for all sorts of independent lifestyles.
But, it turns out there is a new style of retirement village taking off in Australia, and instead of expanding out, they're going up.
That's right, vertical retirement villages are in demand at the moment
You might be wondering what a vertical retirement village is?
Ad. Article continues below.
Well, it's basically a medium-rise, multi-story retirement village, offering multiple apartment living options for retirees along with all the amenities most retirement villages offer.
Several Australian companies have already ventured into vertical retirement villages, including Aveo, Stockland and LendLease with numerous projects around the country.
So what's driving the demand for vertical retirement villages?
Mary Wood executive director of the Property Council of Australia's Retirement Living Council told the Australian Financial Review the vertical retirement project trend was following the demand in the broader market for multi-storey living
"Older Australians are much more used to apartment living than previous generations, as is the general community," she said.
Ad. Article continues below.
"This explains why a lot of the innovation in retirement living is in urban, high-density areas."
Aveo CEO Geoff Grady said Australia was at "the cutting edge" of retirement living and care around the world.
"Creating vertical retirement communities is the logical solution by offering retirees a modern, low-maintenance lifestyle and with care and service offerings available in the one location as and when they need it," he said.
"Retirees are just as discerning about location and access to amenities as any other buyer, and as such, they are looking for residential offerings that allow them to continue their current lifestyle.
"We know that people who have been living in middle-ring suburbs are often looking to remain in the same locale – so we've provided retirees with quality apartment living, allowing more people to continue to enjoy the lifestyle they love with the added confidence of being able to age in place."
Ad. Article continues below.
Now you know what's driving the trend, you might be wondering if there's any benefit to living in a vertical retirement village.
According to the operators and developers, there are.
Speaking about Aveo's Bella Vista project in Sydney, Mr Grady said it had been designed as a "lively, friendly village" with modern, low-maintenance living and additional care services.
"The village will boast an array of first-class amenities for both residents and the broader community to enjoy," he said.
"These include cafes, a health and wellness centre, gym, sensory gardens and a lake surrounded by an extensive boardwalk."
Ad. Article continues below.
If vertical retirement villages sound like something you'd be interested in, they'll soon be popping up everywhere.
Aveo's Bella Vista project, for example, is due for completion in late 2017.
Does the concept of vertical retirement village interest you? Is it something you would consider living in?