Farewell, but never goodbye: The second part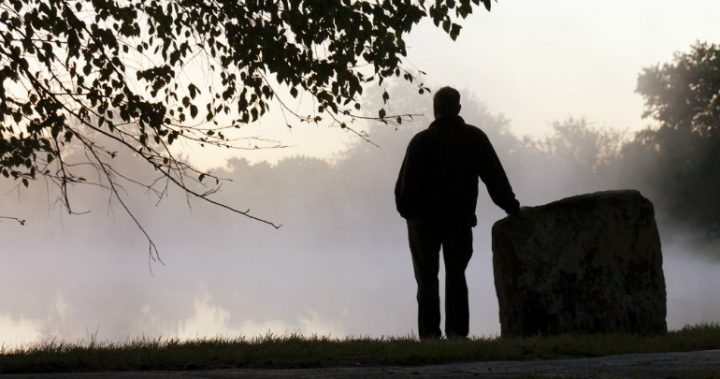 We are looking at the two 'water-chickens' with shiny black feathers with blood red crests swimming in tandem. Until the second chicken joined the first, your eyes scoured the lake.
'Here is the wife? But where is her husband? It could not be far away.'
'Husband? Did they tell you that they were married?' I gently tease you, Vilma.
'They come in pairs, you know', you announce with deep romance in your eyes: 'This is nature's way.
Then you purr with satisfaction:  'Here he comes! They found each other.'
Ad. Article continues below.
I know where you are coming from. You, like me, are an incorrigible romantic.
But fate separated us. You as 21 years my senior were like a new mother to me when I badly needed a mother whom I could get close to, unlike to my own late Mum.
This was the first phase of our soul mateship that started over twenty years ago.
How fortunate I was to have met you and through our relationship finish my unfinished business with my own mother: to experience for the first time a mutually loving mother-son-like relationship.
Having received such motherly love for which I so much craved, I was able to make peace with the memory of my own Mum too, who was too angst ridden and distracted in her life to be able to find out who I was.
Ad. Article continues below.
Read more: Farewell, but never goodbye
After a few years Vilma, our relationship transformed into one between two equal siblings. Then, in the third phase, as you were becoming increasingly infirm, you became like a daughter to me and I, like your deeply loving father.
These were seamless transitions.
You had seemingly infinite patience with me in the first phase; you heard me out and understood me intuitively even if your own views were very different from mine.
This aroused a sense of deep gratitude in me towards you.
Ad. Article continues below.
You never tried to mould me into someone whom you would have wanted me to become, such as a Christ-convert. You were like a tiny old fashioned Hungarian oasis in my Australian world, comparable to what my grand-dad represented to me in my boyhood. I lost him in Hungary when I was only ten.
But through you, his mysterious old Hungarian world which existed before my birth in the 1930s revisited me here in Australia. For example, you and I watched several dozens of archive preserved films from the early cosmopolitan Hungarian film industry. They dated back to the long gone world of aristocratic rural landholders with armies of serfs or farm labourers from villages spreading around the castles of the landlords, working loyally for their gentry 'Masters'.
Some of these feudal aristocrats made the transition to also becoming filthy rich capitalist factory owners. They were invariably portrayed by these unashamedly capitalism-besotted film directors as generous, down to earth dashing looking gentlemen. They would typically fall in love with beautiful poor women of peasant or working class origins, well below their social status. But they could not care less of the snobbish expectations of their own class members that they should marry into their own class.
Love was romantically and misleadingly portrayed as if it was able to prevail over class divisions and invariably led to happy endings. The enchanted lovers always ended up in each others' arms, marrying and living happily ever after. Alas, real life with its crippling Depression and the gathering dark clouds of deepening class and ethnic divisions and hateful anti-Semitism was nothing like the rose-coloured escapist film world.  
So, such were the not so white lies of the 1930s Hungarian, glitzy Hollywood-like films. They were churned out using superb Hungarian actors, period music, dancers, lavish costumes; brilliant choreography and witty and fast flowing scripts.
Ad. Article continues below.
Yet these films gave me rare footage about and feel for the rapidly cosmopolitanising and bourgeoisiefying Budapest and its surrounds in the 1930s and 40s, before Hungary was bombed to smithereens during WW2.       
For the last 50 years, since you left your alcoholic husband behind in Hungary and migrated to Australia, you lived on your own Vilma. And you were also keen to let me know, how much you enjoyed your own company; the simple peace and freedom of it. You kept saying:
'It's great to live alone…. and now and again to share with someone, how great it is to live alone.'
At the age of 85 you announced that next year you would die. It will be time for you to go. After all, you had incurable incontinence; your mobility kept deteriorating. You relied on a walking frame to get around and it took you ages to cook a meal-something that you loved very much but now you found increasingly frustrating as you were as slow as a snail. Your legs swelled with painful gout and you had little appetite. I came to accept that you were getting tired of living like this, yet like the rest of your family and friends tried to persuade you to hang in there. No, you insisted, you will die when reaching 86. Well, I took you seriously and was preparing myself for your death. We said good bye to each other when you turned 86 but nothing happened.
Then you turned 87 then 88, 89 and 90 and you were still around. You were increasingly weary of life; you prayed to God to take you.
Ad. Article continues below.
And then at 90 you developed internal bleeding. Eventually you told me that every time you do your constitutional the toilet bowl is red, you are losing a lot of blood.
I urged you to immediately see a doctor as you could have bowel cancer. But you kept finding excuses for not seeing your doctor. Eventually I got you a referral for colonoscopy but you delayed once again. It was becoming clear to me that you wanted to grab the opportunity for dying if you had cancer. You wanted no cure.
By the time they confirmed you had bowel cancer, it was incurable and it also spread to the liver. It went all according to your plan: you wanted to die and now eventually you were dying and dying fast. You were more than ready for going and were enthusiastically looking forward to it. You went in three weeks after the diagnosis of cancer.
Three words capture your essence Vilma:
PEACE
Ad. Article continues below.
PATIENCE and
HUMBLE FAITH
PEACE
I had known you for over twenty years by the time you died. I have never met a person as calm as you.
Your gentle smile radiates peace, gratitude and contentment.
Ad. Article continues below.
You said that you did not shed a single tear when you were told that you would die.
You made complete peace with death. The only thing you prayed for was that your loved ones would find peace in accepting your departure.  'What do you want people to think of you after you are gone?' I asked you. You answered: 'Let them try to forgive me.'
'What should I recite for you from your favorite poet, Sándor Reményik, at your funeral?' The following:
'I no longer have a home on Earth.
Gentle hands no longer are holding me back.
Ad. Article continues below.
I soak in the sun a little longer
And then… quietly… I too… go.'
PATIENCE
You told me several times Vilma that your friends often phone you only to talk about themselves nonstop, without giving you space to put in a single word of your own.
When they exhaust themselves and stop for a breather, sometimes they ask:
Ad. Article continues below.
'And Vilma! How are you?' But before you could answer they are back to their monologue. But your response was: 'Well, if they need to talk, why not? It's all right with me.'
HUMBLE FAITH
At my very last farewell visit to you, I asked you on the way out:
'What did you learn from life?' You answered without hesitation:
 'That I am wretched.' I was shocked. It took me a week, just one day before your death, for the significance of your answer to dawn on me.
Ad. Article continues below.
I recalled Mahatma Ghandi's recognition that a truthseeker must be even humbler than the dust. The world tramples the dust under its feet, but the truthseeker must so humble the self that even the dust will crush it. Only then has he/she a chance to glimpse at the truth.
Well Vilma, you became even humbler than the dust. Hence you could catch a glimpse of your Creator already in this life not just through the glass darkly, but face to face.
And in your smile there was the recognition that God indeed is love.
Your last sentence to me was: 'Have faith, heaps of it!'
Do you think it's possible to keep learning from a loved one even after his or her death?