Six times Princess Margaret showed off her razor-sharp wit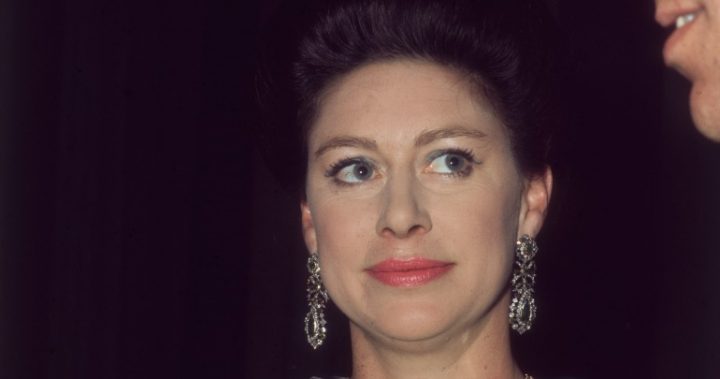 It's not every day you get a scolding from a princess, but if you spent time with the late Princess Margaret it's highly likely you were subjected to one of her hilarious comebacks at some point.
The Queen's younger sister, who died in 2002, was well-known for her wicked sense if humour and razor-sharp wit and frequently left people gobsmacked with her blunt honesty and forthright opinions.
Here are some of her best and most-famous encounters with a bevy of celebrities.
Twiggy
The story goes that Princess Margaret was seated next to model Twiggy at a dinner party and ignored her for two hours before turning to her and asking, "and who are you?".
Ad. Article continues below.
Twiggy replied, "I'm Lesley Hornby, ma'am, but people call me Twiggy."
Margaret responded, "How unfortunate," and turned away again.
Rupert Everett
The actor went to the theatre Princess Margaret and recalled the wild night on The Graham Norton Show in 2015.
"I never got asked again, I must say. She didn't realise that there were two princesses there; one of them was me," Everett said. His first faux pas of the evening, he said, was failing to light her cigarette.
Ad. Article continues below.
"She was like the Red Queen in Alice in Wonderland. She had huge black hair, the Hanoverian bosom, and her breasts rattled like castanets—I don't know what was going on. She had cigarettes about this long," Everett said, gesturing his arms out in front of him.
"When we were getting in the car, she said, 'Hey, you've got marvellous legs.' And then she called me Leggy all night. 'Leggy, do you mind if I grab you at the end of the second act?'"
Everett said at one point her excused himself to go to the bathroom, but Margaret could not be bothered to wait. "She banged on the [bathroom] door and went, 'Come on, Leggy!'"
"I spent the whole of the second act without having a pee."
Elizabeth Taylor
Ad. Article continues below.
The princess reportedly insulted Elizabeth Taylor when the pair met at an event, telling the actress her diamond ring was "vulgar".
Taylor is said to have replied, "Ain't it great?" before convincing Margaret to try on the ring herself. "Not so vulgar now, is it?" Taylor retorted.
Grace Kelly
Upon meeting the famed actress, Margaret said, "You don't look like a movie star." Offended, Kelly is said to have replied, "Well, I wasn't born a movie star."
George Harrison
Ad. Article continues below.
The former Beatle is said to have made a bit of a fool of himself in front of the princess when he saw her at a party one evening. Harrison had just been arrested and charged with possession, Theo Aronson wrote in his biography, Princess Margaret.
'Guess what?' he exclaimed, 'We've been busted. [The police] planted a big block of hash in my bedroom closet,'" wrote Aronson.
"How terrible," murmured the Princess diplomatically.
But Harrison was after more than her sympathy. "Do you think you might get the charges dropped?" he asked.
"I don't really think so. It could become a little sticky. Sorry, George."
Ad. Article continues below.
Poking fun at her husband, Lord Snowdon
"While Princess Margaret was attending a high-society party in New York, the hostess asked her politely how the Queen was keeping," reported The Telegraph. "'Which one?' she is said to have replied with her typically razor-sharp wit. 'My sister, my mother, or my husband?'"
Which one was your favourite? Do you remember when Princess Margaret died?