If Prince Harry wants a 'non-trad' wedding, he should ask the Queen how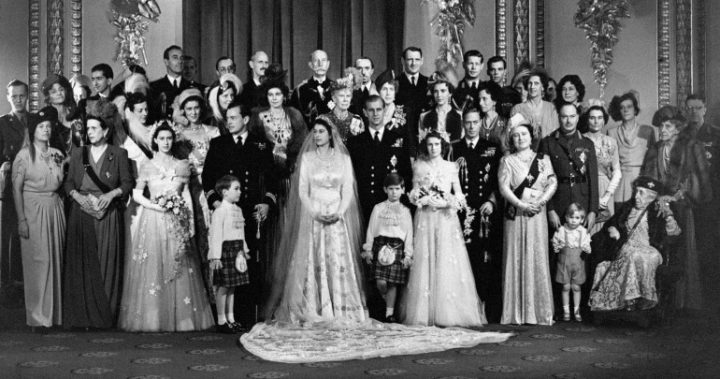 This may be something Prince Harry and Meghan Markle want to do, since they're said to be considering nuptials far removed from the usual royal style – ask the Queen for advice.
As British tabloid The Star reports a 'world exclusive' that the young couple's engagement has been "secretly announced" and that they're planing a "non-traditional wedding", they might take a leaf out of Queen Elizabeth and Prince Philip's book. Although the monarch's wedding appeared to have all the pomp and ceremony of a normal royal nuptials, there was an unusually down-to-earth element to it.
When the Queen got married in 1947, rationing was still in place in the wake of World War II, so to pay for her dress, the monarch saved her own clothing ration coupons. Coupled with a gift of 200 coupons from the government, she had enough to pay for the material for her wedding dress – ivory silk, with a 13 foot-long train and decorated with crystals and seed pearls, all of which were bought with coupons.
She was offered help by women around the country, who send her hundreds of their own coupons, but she had to return them as it was illegal to use another person's coupons.
As Marketwatch noted in its story about the thrifty dress, it was a far cry from what such a dress would cost to make today. The Telegraph reported that it cost £30,000 (US$40,000, A$52,500) to recreate the dress for the Netflix series The Crown. Catherine's dress when she married Prince William in 2011 cost an amazing £250,000 (US$333,400, A$537,500)!
Ad. Article continues below.
Queen Elizabeth's dress, though far cheaper by comparison, was still a luxury affair, designed by Normal Hartnell, from silk made by silk worms brought from China (not Japan, which was at the time considered an enemy nation).
A non-traditional or budget wedding for Prince Harry and his girlfriend of two years is unlikely to satisfy royal fans, however, whose fervour has been fanned by a series of stories claiming an official announcement of their engagement is imminent. The Star said an announcement could come as early as this week, while the Daily Mail newspaper even tweeted on Friday night in the UK that an announcement could be made within hours (this didn't eventuate).
Prince Harry and Meghan Markle rumoured to be announcing their engagement at 5pm TODAY https://t.co/S4QgDndB0h

— Daily Mail U.K. (@DailyMailUK) November 24, 2017
According to e-tailer Lyst, brides currently spend on average US$998 or A$1,320 on their dress.
Did you have to be thrifty when it came to making or buying your wedding dress? Did you reuse a gown or frock you already had? Do you think the amounts spent on wedding dresses today is exorbitant?