Gorgeous and glowing Catherine sailing through final weeks of pregnancy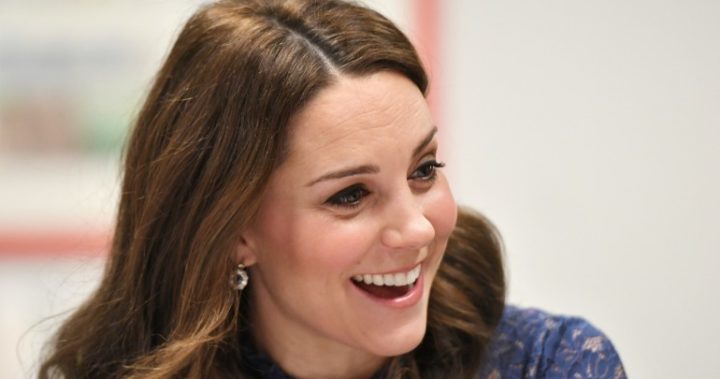 The Duchess of Cambridge continues to cement her status as a spokeswoman for parents and children, and looks blooming herself as she gets ready to become a mother to her third child.
Catherine wore one of her favourite maternity dresses, a £165 (AU$293, US$229) navy dress with a flattering lace bodice from Seraphine – a pretty frock that she first debuted at dinner with the Norwegian royal family last month. It was complemented by simple black suede court shoes and matching clutch, and of course her beautiful sapphire engagement ring, that had once been Princess Diana's.
Ad. Article continues below.
The duchess, who is eight months' pregnant, was speaking at the opening of the new HQ of children's mental health charity Place2Be. She's been the charity's patron since 2013, the Daily Mail reports, and its one of the many roles she has in the mental health, child and parent space – including recently becoming the patron of the Royal College of Obstetricians and Gynaecologists (RCOG) and the Nursing Now campaign, a position previously held by the Queen Mother.
In her speech, Catherine acknowledged the tough time teachers had in balancing kids' mental health with the emphasis on academic excellent currently at play in the education system.
The duchess also joined some children from a nearby school for some art exercises, watching them stick objects to pictures of hands and commenting that she felt like joining in the fun. "Maybe I should take one home to do with George and Charlotte," the royal added, according to the Daily Mail.
Catherine's third child is due in April.
Did you keep the same maternity clothes through multiple pregnancies?