Ardern and Turnbull clash over Australia's criminal deportation law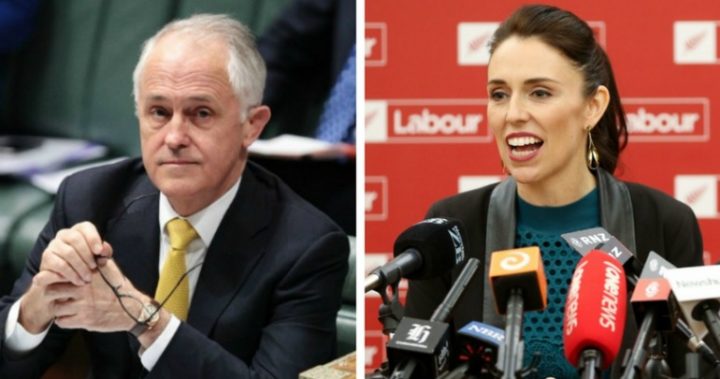 New Zealand's Prime Minister Jacinda Ardern has come to blows with her Australian counterpart, Malcolm Turnbull, over Australia's policy of deporting Kiwi criminals.
Several New Zealanders who have broken the law in Australia have been deported as a result of their crimes, although Arden and Turnbull aren't on the same page when it comes to the policy. The NZ leader is currently in Australia and wasted no time expressing her opinion during a joint press conference on Friday afternoon.
She conceded the Australian government has a right to protect its country, but politicians need to put themselves in the shoes of New Zealanders.
"I've raised again, as we have on previous occasions, elements of the deportation policy that have, in particular, been brought to our attention," she told the press from Kirribilli House in Sydney. "Where for instance, someone has never stepped foot in New Zealand. It's something we've been keen to make sure the Australian government is aware of our perspective on that and our strength of feeling around it. But ultimately, it is in the Australian government's hands to determine how they manage that element of the policy."
LIVE – press conference with the PM and NZ Prime Minister Jacinda Ardern ???????????????? https://t.co/YurXk57BLa

— The PMO (@thepmo) March 2, 2018
Ad. Article continues below.
Turnbull argued the government wasn't singling out New Zealanders and that it was an across-the-board policy. "It doesn't just apply to New Zealanders by the way," he said. "It applies to people who are not Australian citizens, who have committed offences of a serious kind and are subject to deportation.
"We entirely understand how keen an issue it is in New Zealand, but it is our sovereign right, as it is yours, to determine whether, and in what circumstances, non-citizens can remain within our borders, or yours in New Zealand."
Two New Zealanders a day have their visas cancelled due to bad behaviour, according to a report by the Herald Sun, with 664 cancelled in the past financial year. Turnbull and Ardern's stoush follows a fiery interview from Home Affairs Minister Peter Dutton who told A Current Affair in February that Australian courts weren't tough enough on foreigners who break the law. 
Ad. Article continues below.
"Some people are getting a soft touch because they are not citizens of this country," he said. "The community expectation, particularly around sentencing, should be met. And there are a number of cases around where it's not being met."
At present, people from overseas who spend more than a year in jail are deported.  Last November, 19-year-old New Zealander Caleb Maraku was sent packing after being sentenced to 12 month's probation for a sickening one-punch attack at Surfers Paradise that left his victim unconscious. 
Where do you sit on the debate? Do you think criminals from overseas who break the law should be deported?