Sex offence charge dropped against George Pell as accuser dies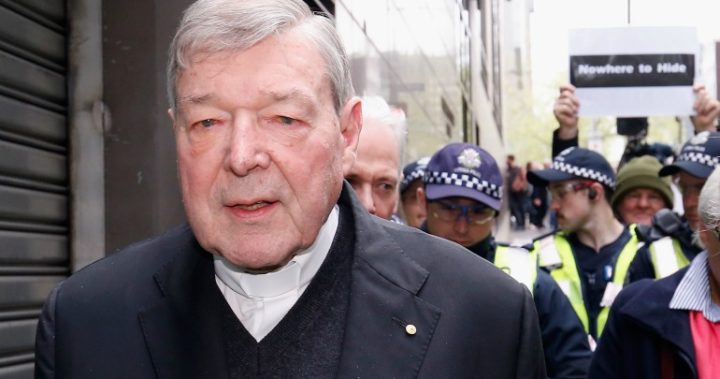 One of the historical sex offence charges made against Cardinal George Pell has been dropped because the accuser has died.
Appearing at Melbourne Magistrates Court on Friday, Crown Prosecutor Mark Gibson SC confirmed the charge was being withdrawn.
Pell, 76, will still face court on Monday, to determine if he will stand trial on historical sexual offence charges involving multiple complainants, the Herald Sun reports. Details of the charge dropped are not yet known.
Pell was charged with multiple accounts of child sexual assault in June, 2017. The allegations relate back to his time with the Church in Ballarat, Victoria. He has vehemently denied all accusations against him, and previously vowed to fight them in court.
He claimed at the time the allegations were part of a media smear campaign to sully his name. "The allegations are untrue, I deny them absolutely," he said last year. "I'm like any other Australian — I'm entitled to a fair go."
Ad. Article continues below.
Read more: George Pell's lawyers ask for accusers' medical records
The case against him was initially thrown into doubt after one of his main accusers, Damian Dignan, died in Victoria following a long illness recently.
It was Dignan's allegations that lead Victoria Police to publicly reveal Cardinal Pell was under investigation for the alleged abuse within Australian churches.
Former chief Victorian magistrate and crown prosecutor Nicholas Papas told The Australian the death had complicated the case at the time. "It's not an unreasonable quote to say that prosecutors could have a more difficult task now, yes," he said.
"Normally it requires that the person who has given evidence to be there, and so normally it would be the case that without them there, the prosecution can't proceed … but you can't be absolutely sure."
Ad. Article continues below.
And it comes after the ABC reported lawyers were seeking access to the private medical records of complainants in the case against him. Pell's barrister Ruth Shann told the Melbourne Magistrates Court that subpoenas had been served to five service providers relating to three of Pell's accusers.
She said it was not "fishing expedition" and that she needed access to the records to help build her defence for the case.
"We would not get very far at a committal just asking these people," she said, referring to Pell's accusers.
Shann told the court one of the complainants underwent medical treatment and may not be in the best position to describe their mental state, calling instead for professional assessment. However, the request was later denied.
Have you been following the case?