Uma Thurman details horrific Harvey Weinstein abuse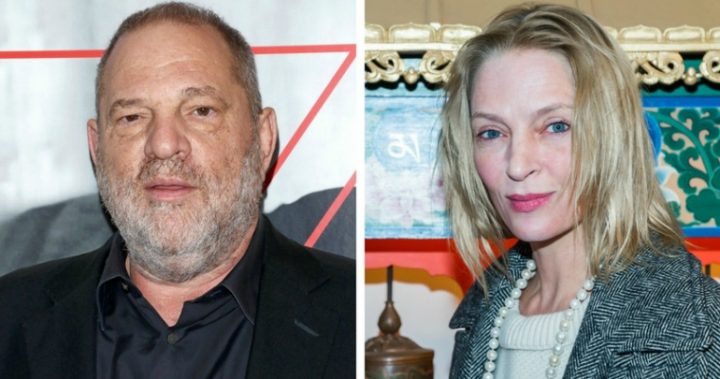 She's been hinting that she'd been abused by Hollywood sex pest Harvey Weinstein for some time but actress Uma Thurman has come out with some shocking allegations against the disgraced producer.
Speaking exclusively to the New York Times, the 47-year-old detailed an array of different examples where she claims she was abused by Weinstein. She alleged that he tried to expose himself to her and that she saved herself from the attack by wriggling away. Thurman said that during the attack, Weinstein was "doing all kinds of unpleasant things".
In another case, Thurman alleges Weinstein wore a bathrobe during a business meeting at a hotel, where he encouraged her to follow him into a steam room. His rep explained to Huffington Post that the incident was nothing more than Weinstein misreading her signals. He has apparently apologised for the incident, but maintained his innocence. "Her claims about being physically assaulted are untrue," the statement read. "And this is the first time we have heard those details."
She admitted that she felt regret that so many other women were attacked by Weinstein after her and first came forward with claims against the 65-year-old in a scathing Instagram post in November on Thanksgiving. "I am grateful today, to be alive, for all those I love, and for all those who have the courage to stand up for others," she wrote.
"I said I was angry recently, and I have a few reasons, #metoo, in case you couldn't tell by the look on my face. I feel it's important to take your time, be fair, be exact, so… Happy Thanksgiving Everyone! (Except you Harvey, and all your wicked conspirators – I'm glad it's going slowly – you don't deserve a bullet) -stay tuned Uma Thurman."
Ad. Article continues below.
Ad. Article continues below.
During her New York Times article, the Kill Bill star also revealed that she had been sexually assaulted at the age of 16. She recalled felling angry that she didn't have physical signs of harm on her body that would prove the attack. "When I got home, I remember I stood in front of the mirror and I looked at my hands and I was so mad at them for not being bloody or bruised," she said.
Her comments come after acting legend Ian McKellen caused outrage when he suggested that women often encourage sex pests. Talking at an event at the Oxford Union, he implied that women were partly to blame for the rise of allegations that have turned Hollywood on its head.
"But from my own experience, when I was starting acting in the early Sixties, the director of the theatre I was working at showed me some photographs he got from women who were wanting jobs," he said at the time. "Some of them had at the bottom of their photograph 'DRR' – directors' rights respected. In other words, if you give me a job, you can have sex with me."
Have you been following this story?
Ad. Article continues below.
---
With Facebook removing news sites from your feeds we ask that you sign up for Starts at 60's emailers here. And to keep us on your wall, join some of our new Facebook groups and clubs:

News Junkies Club – Australia
News Junkies Club – USA 

See news on the change and links to all our other clubs and groups here.