Ian McKellen says plenty of actresses encouraged sex pests in the '60s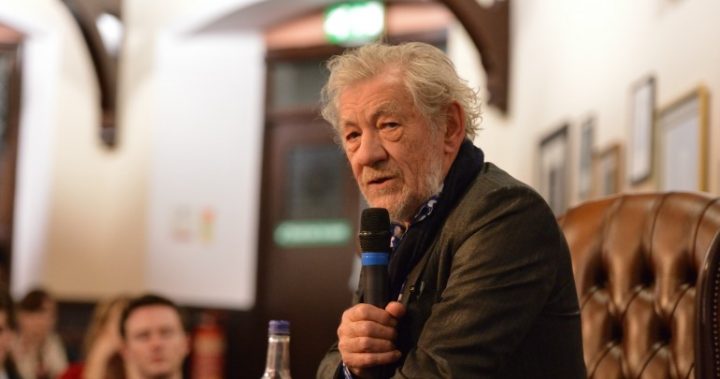 He's been entertaining the masses for decades, so knows a bit about the entertainment business, and now screen legend Sir Ian McKellen has spoken out about the sexual harassment scandal that has rocked Hollywood.
Speaking at a recent talk at the Oxford Union, the 78-year-old suggested that women were partly to blame for the high number of allegations that have rocked the entertainment industry.
"I hope we're going through a period that will help to eradicate [sexual abuse] altogether," the X-Men actor said, according to a report in the Daily Mail.
"But from my own experience, when I was starting acting in the early Sixties, the director of the theatre I was working at showed me some photographs he got from women who were wanting jobs … some of them had at the bottom of their photograph 'DRR' – directors' rights respected.
"In other words, if you give me a job, you can have sex with me."
Ad. Article continues below.
He went on to say that many men acted on these offers.
The Lord of the Rings actor spoke of his fears of people in the business being wrongly accused.
In Australia, actor Geoffrey Rush is suing the Daily Telegraph over misconduct allegations the newspaper published last month.
Read more: Geoffrey Rush to sue Daily Telegraph over misconduct allegations
The Daily Telegraph reported accusations that Rush of misconduct during his time at the Sydney Theatre Company during a production between 2015 and 2016. The 66-year-old has maintained his innocence and noted that the claims had damaged his reputation.
Ad. Article continues below.
But McKellen had less sympathy for Hollywood star Kevin Spacey, with whom he's worked in the past.
As you may recall, Spacey came out as gay in October following accusations by male actor Anthony Rapp, who suggested that Spacey made sexual advances at him when he was just 14 years old. Spacey would have been 26 at the time.
Read more: Kevin Spacey reveals long-held personal secret amidst scandal
McKellen, who is gay himself, suggested that Spacey's way of coming out was inappropriate.
"The circumstances in which he chose to do it are reprehensible because it linked alleged underage sex with a declaration of sexuality," he said.
Ad. Article continues below.
McKellen isn't the only popular actor speaking his mind when it comes to sexual harassment.
Just last week, Matt Damon suggested that there is a spectrum of behaviour to consider and that not all actions should be automatically considered assault.
"There's a difference between, you know, patting someone on the butt and rape or child molestation, right?" Business Insider reported Damon saying in an interview for American ABC's Popcorn with Peter Travers. "Both of those behaviours need to be confronted and eradicated, without question, but they shouldn't be conflated, right?"
His comments have been widely condemned by women in Hollywood, including Minnie Driver, who starred with Damon in his breakout movie Good Will Hunting, and dated the actor afterward, before he famously dumped her on the Oprah show.
Gosh it's so *interesting how men with all these opinions about women's differentiation between sexual misconduct, assault and rape reveal themselves to be utterly tone deaf and as a result, systemically part of the problem( *profoundly unsurprising)

— Minnie Driver (@driverminnie) December 15, 2017
Does Ian McKellen have a point? Are women partly to blame for the current sexual harassment scandal?