Mark Philippoussis' father suffers huge stroke amidst assault claims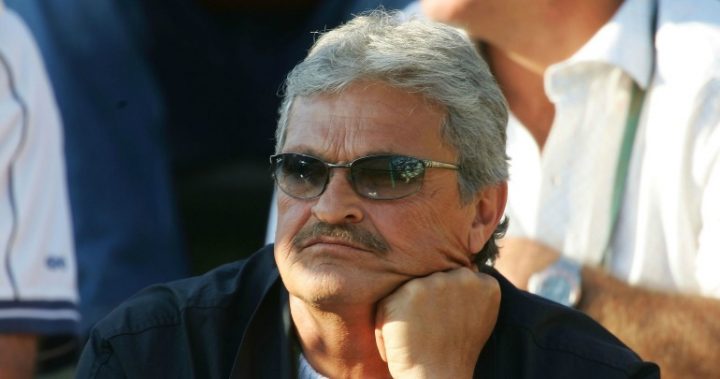 Disgraced Australian tennis coach Nick Philippoussis has suffered a massive stroke in an American jail.
The father of tennis star Mark Philippoussis is currently behind bars on charges that he sexually assaulted two girls he coached in California between 2016 and 2017.
It is believed that his latest health scare could mean that he never faces trial for his alleged sexual behaviour. According to the Sydney Morning Herald, a judge in San Diego was told that the 68-year-old is immobile following the stroke.
He has been held under guard and handcuffed to a public hospital bed for a few months. Because of his health scare, the case has been put on an indefinite hold.
Mr Philippoussis' lawyer Ryan Tegnelia gave an update on his client's health. "He is conscious, but is not responding to any stimuli," he said. "The best way to describe his state would be catatonic."
Ad. Article continues below.
He also dismissed claims that Mr Philippoussis' was faking his illness. "No-one has accused him of trying to pull a fast one," Mr Tegnelia said.
Mr Philippoussis made headlines in July of last year when he was arrested for allegedly assaulting two girls. It is believed they were just nine at the time of the incidents. He pleaded not guilty to the 14 charges against him.
Read more: Philippoussis remains loyal to dad despite molestation charges
If he was found guilty, it is believed that he would face a lifetime jail sentence. That means he could face 210 years behind bars. When news first broke of the shocking allegations, it is believed that Mr Philippoussis carried out the assaults over the course of a year in his car, at his home and at a tennis complex.
A judge has lifted his bail since his health scare, set to be at $US9.2 million (A$11.7m). This means that family members, including his son Mark, could visit him without as many restrictions.
Ad. Article continues below.
As new initially broke, Mark remained loyal to his father. While Mr Tegnelia admitted that the family were "in shock" of the news, he also said that Mark was committed to providing any comfort for his father while he was behind bars.
Mark appeared at the initial court hearing but declined to make a statement or answer questions from the media at the time.
Since his arrest last year, Mr Philippoussis was held at the San Diego County Jail. Raids on his home were also carried out.
Read more: The Scud's dad arrested on alleged child-sex charges
It is believed that he initially suffered the stroke in November and was shortly transported to a nearby hospital afterwards. At present, his passport has been given to prosecutors.
Ad. Article continues below.
The Australian added that Deputy district attorney Garret Wong didn't think Mr Philippoussis' prognosis was good. "We felt he did not pose a threat to the public's safety," he said.
His lawyer added that recover is "not very likely".
What do you think?