Loretta Lynn 'in good spirits' after fracturing hip in fall at home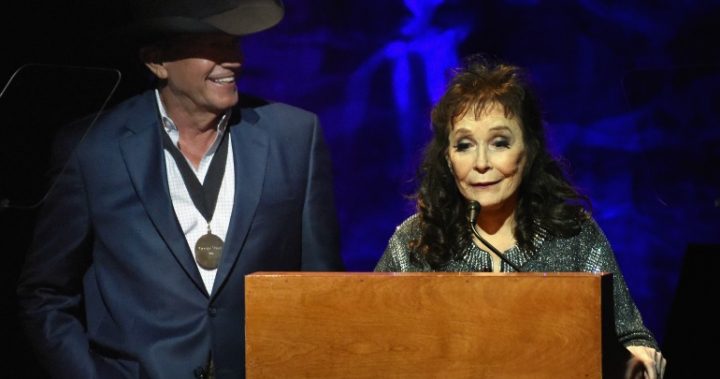 Iconic country star Loretta Lynn has suffered another health setback just eight months after she had a stroke. The 85-year-old fractured her hip in a fall at home during the first week of the new year, a representative for the singer confirmed. 
A statement on her website says she is currently recovering and doing well. "American music icon, Loretta Lynn is recovering from a fractured hip after a fall while at home. She is doing well and thanks all her fans for their thoughts and prayers."
The singer's sister Crystal Gayle took to Instagram on Monday asking everyone to "send love and prayers" and added that Lynn was still "in good spirits". "My birthday wish is for everyone to send love and prayers to my sister. I was with Loretta yesterday. She is in good spirits and is doing well as can be expected with this type of injury. Thank you for your love, prayers and continued support!" she wrote.
Ad. Article continues below.
Fans quickly rushed to Gayle's Instagram page to show their support and send wishes for a speedy recovery. One person wrote: "Sending prayers for Loretta hope she heals and is feeling better soon."
Another added: "Love and prayers for the Queen of Country music!!" A third message read: "Prayers flying high !!! God bless her. #countryqueen."
It's not the first time the singing sensation has suffered a health setback. In May last year, Lynn suffered a stroke forcing her to cancel shows and postpone the release of her new album Wouldn't It Be Great. 
Read more: Country music star Loretta Lynn hospitalised after a stroke
Ad. Article continues below.
However, she returned to the stage in September for the 2017 Tennessee Motorcycle and Music Revival at her ranch in Hurricane Mills. In October, Lynn travelled to Nashville to induct her friend, American singer Alan Jackson into the Country Music Hall of Fame. 
Lynn is best know for her biographical hit 'Coal Miner's Daughter', which became a book and later an Oscar-winning film. Other fan favourites include, 'You Ain't Woman Enough', 'The Pill', 'Fist City' and 'One's On The Way'. 
With a career spanning over 60 years, Lynn has achieved a lot throughout her time in the spotlight. In 1983, the singer was inducted into the Nashville Songwriters Hall of Fame, the Country Music Hall of Fame in 1988 and the Songwriter Hall of Fame in 2008.
Lynn celebrated her 85th birthday last April by performing two sold-out shows in Nashville. 
Are you a Loretta Lynn fan? What's your favourite song of hers?