An engaging William was making his way around the event, congratulating nominees and winners, when he passed by one of the awardees Natalie O'Rourke.
O'Rourke won her award for championing a riding centre which provides children and those who live with disability a chance to ride horses.
O'Rourke told The Sun: "Prince William just came over and started talking to us, it was amazing. He was just walking by and I was sitting down."
"I said 'I'm sitting down, should I stand up?'" you know, because it's Prince William.
And he said: "'No, don't worry.'"
Emboldened by the exchange, O'Rourke then "asked if we could take a photograph", to which William replied "Yeah".
An elated O'Rourke said: "It was completely crazy because I thought we daren't go up to him, but he was just a nice, normal, genuine person.'"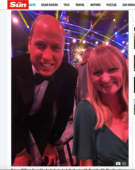 While this is a lovely story and sentiment, it does, however, completely contradict the official stance of the Royal family.
It is the clear protocol among the Royals that "selfies are bad", as once claimed by Prince Harry while posing for a selfie with a doting fan.
In the few instances where a Royal selfie has been snapped, it has been met with discontent and frustration either from the captured Royal themselves, or their hired help.
The monarchy's position on selfies was confirmed by Meghan Markle in 2017, with the Duchess of Sussex was overheard noting "we are not allowed to do selfies".
So why did William so eagerly bend the rules? To appease the desire of the award-winning O'Rourke? To slowly push the monarchy into modernity? To prove that he can be more than a stickler for rules?
It's unclear.
What is clear is this: Prince William remains a desirable photo subject – whether he is maintaining the monarchy's moral standing, or crushing the customs of old – one selfie at a time.