Be comfortable with who you are at this age
One of the biggest fashion faux pas you can make is trying to dress in a style that is designed for someone much younger. While there's nothing wrong with wanting to embrace the current style trends (so much of style is about attitude, not age), you can end up looking much older than you really are. If you've never considered your 'signature style' then perhaps now is the time. When you dress to flatter your body and express your personal style, it can make you feel youthful and confident regardless of your age.
You're never too old for trends and there's a lot of fun you can have in experimenting with your wardrobe. You want outfits that are going to work for you, your body and your personal style.
Build on the basics
Creating your fashion style is a personal experience, but there are a few staples most fashion experts recommend for women of any age:
A knitted, knee-length dress (perfect for winter, the material looks good on any body type)
A versatile midi dress ('midi' refers to any dress or skirt that has a hem that hits at mid-calf)
A wrap dress (these dresses stand the test of time … and for good reason. Not only is it flattering for most body shapes, but you can dress it up or down with ease)
Tailored trousers (be sure to go for good quality and pick a neutral colour that will go with whatever you choose to wear that day)
A classic white shirt
A black dress (choose a really well-fitting black dress or skirt, which will allow you to add different accessories to change it up for whatever the occasion)
Classic items like these in neutral colours allow you to become a canvas for accessories.
Accessorise!
Accessorising is one of the big keys to fashion for women over 60. When you accessorise the clothes you already have in your wardrobe you're achieving two things — the first is that you're able to wear something you totally love and are comfortable in and the second is that you're able to accentuate your own personal style in a unique way.
However, don't fall victim to the over-60 women's attitude of wearing all your jewellery at once. Instead, focus on one statement piece with a few smaller accessories. Sounding like a rattle is not flattering and it's certainly not going to have you looking younger.
Think about beautiful scarves, pins and brooches, jackets, hats and belts. These can be used to accentuate your personal style and energy and the right accessory can be a conversation starter. Diane Keaton is a boss when it comes to accessorising her outfits!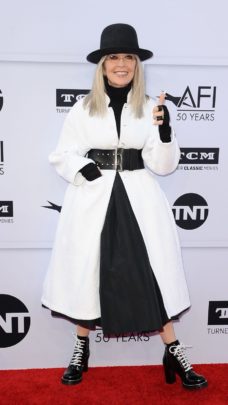 Jeans and denim
A nice pair of denim jeans — straight or wide leg — denim skirts and even denim jackets look great on a more mature woman. Jeans are always in fashion, but you need to make sure you get the right pair for your shape. Unlike men, who will likely buy jeans by the waist and leg measurement, women need more information to make the right choice. To get the right fit for you, check out the waist rise, the upper leg and the lower leg.
Believe it or not, there is actually a simple equation that can have you buying the perfect fit jeans every time. First, measure the distance from your armpit to your natural waist. Then measure from your waist to the bottom of your buttocks. If the distance of the first is less than the distance of the second then you have a short waist (also called a 'high waist') but if the measurement is longer, you have a long waist (also called a 'low waist').
If you've got a short waist, steer clear of high rise jeans. It'll give an impression that your jeans start in your armpits, which is unlikely to be a look anyone is going for. Instead, stick for jeans that are of a normal or low rise, because they'll lengthen the look of your torso and give the impression your bottom and top are even.
For those with a long waist, choose jeans with a higher rise to give your legs a longer look.
Where your measurements are equal, wear low or high rise jeans depending on your preference. One word of caution though — low rise jeans are best worn by those who have a flat stomach. If your middle area looks like you've been eating too many baked goods low rise jeans will give your tummy an invitation to just flop on over the top. You've no doubt heard the term 'muffin top'?
Look for fashion in new and different places
Do not allow your age to stop you from entering stores that have a 'younger' feel. If you're not a regular fashion shopper, dip your toe in stores that you've never been to before. You might find just the right outfit in Ally, Bardot, Dotti or Forever New. Also check out op shops and charity stores.
Say yes to prints, colours and textures
Black and white can do a great job of transforming your outfit into a more youthful look, especially if you add a hint of colour. Consider wearing patterned leopard print or snake skin shoes with an all-black outfit, or pair a coloured necklace with your white top and jeans.
A final word
You also don't need to spend a great deal of money to look good, but you do have to be smart about what you spend your money on. You'll find some great looks online, so indulge in a bit of online shopping to get what you want (especially helpful if you're put off by sales assistants in-store).
Finally, don't worry about what other people are going to think — when it comes to fashion, you have to be comfortable.