JR. Who is your current book dedicated to and why?
Jay. The Twisted Knot is dedicated to my children. I have a daughter and a son, both primary school age. Becoming a parent changed my perspective on so many things, especially some of the issues touched on in the book. As a mother, you realise a part of your heart is walking around outside your control, and despite your best efforts, there is only so much you can do to protect and guide your children.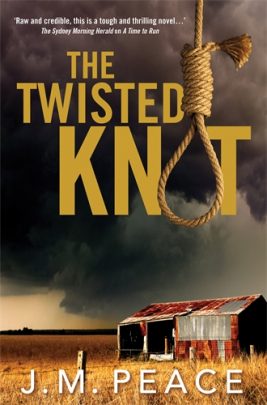 JR. Who or what inspires you?
Jay. I'm a people watcher and curious person by nature. I'm inspired by the unexpected and exceptional. They are the things that pose the questions that form the stories in my mind.
JR. Who/what influenced you to be a writer?
Jay. Even from a young age, I wanted to be a writer. I think I love the idea of having every possibility open to you as you sit down in front of the blank page. I wrote my first book when I was in Grade 12 but I really had no idea what to do with it after that. It was before the days of the internet where you can access instant information and networks.
JR. What are you reading?
Jay. I have just finished Like I Can Love by Kim Lock, who is a friend of mine. The book deals thoughtfully with another unfathomable and pervasive crime – domestic violence, where you hurt the ones you claim to love. I, unfortunately, have very limited reading time.
JR. As you start to write, which comes first, place or characters?
Jay. Neither really – it's the plot, essentially the conflict, that I try to nut out first. I then populate the story with characters who will respond to that situation in different ways and make the plot come alive. My characters are all largely based on people I know. So as I write a scene from a certain perspective, I ask myself – "What would so-and-so do?"
JR. Not a question so much as an observation: Perhaps it's due to your training, the need for police reporting to be made in a clear, unadorned manner, but I must compliment you on your straightforward language in The Twisted Knot. Many a crime novel is spoiled (to my taste, anyway) by the author's gung-ho, 'out there' verbosity. That your book was enjoyed as much for the writing as for the twists of the plot is about as good a compliment as I can make. Thanks, Jay.
Hi John,
Thanks so much for your comments. I try to write books I would enjoy reading – easy to read and easy to follow. I get a little lost in some of the more complex crime stories! I do think writing police statements has had an impact on my writing style. There's the idea of trying to paint a picture in such a way that anyone reading it will understand what happened.
I have a friend at our local Salvos and I think you provide so many wonderful services in the community. I have so much respect for people like yourself who give back in such a constructive and tangible way.
Thank you for your questions.
Kind Regards,
Jay
The Twisted Knot, by J M Peace, is available from Dymocks, sincere thanks to Kirsty Noffke from Pan MacMillan Australia for facilitating this interview.

Join Books at 60 on Facebook, or sign up for our weekly newsletter below for more great reading recommendations!