The fine line between treating grandkids and spoiling them rotten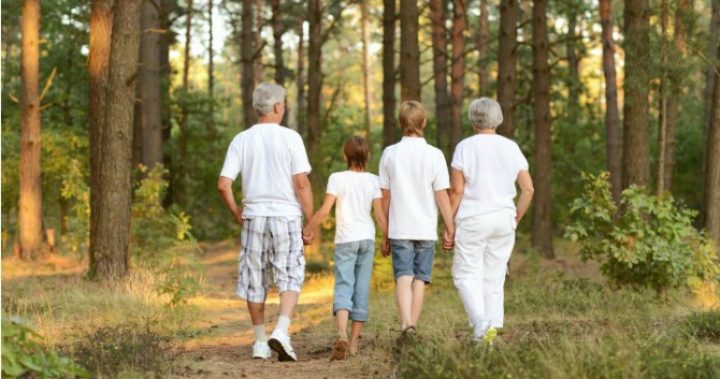 For years, experts have debated if grandparents 'spoiling' children at a young age can have a negative effect on them – or whether it benefits them long-term.
So where do you draw the line between showing them love and affection, and over-treating them to a point it can actually affect their health? Whether it's the differing opinion of parents and grandparents when it comes to food, or grandparents allowing behaviour that would usually be prohibited by the parents, there are many factors contributing to the argument.
Read more: You're a health risk to your grandchildren, report finds
But what do you think? Should grandparents still have the right to 'spoil' their grandkids as they see fit, while they're in their care? Or could it prove to be a health risk, if pushed too far? Here are a few ways grandparents can go wrong:
Unhealthy food or 'treats'
Ad. Article continues below.
New scientific research, published just months ago, revealed the way we treat our grandchildren could specifically have a negative impact on their health in the long-term. The study, published in the journal PLOS One, revealed that grandparents need to adapt their behaviour "to be a positive influence on their grandchildren's health through the design of realistic, theoretically underpinned interventions". 
One of the big points of contention is the differing approach that parents and grandparents have towards food. Some parents may be attempting to provide healthier food or "change mealtime practices, such as the rule that children must clear their plate". 
While this was once a common requirement for kids at the dinner table, it's no longer seen as a necessity in many households if a child is not hungry or is not enjoying the meal. However, some grandparents still see "overfeeding and excess weight [as] signs of health" and are therefore more likely to pressure children to continue eating even when their body is resisting. 
Then there's the tendency for grandparents to want to "spoil" their grandchildren by offering "high sugar or fat foods, or providing too much food", which leads to parents feeling  "frustrated and undermined".  If you believe this could be a problem, About Parenting has one very strong recommendation: substitute one indulgence for another. Find a non-food related way to tell the grandkids that their visits are something special and fun; greet them with a game, activity or lively ritual.
Researchers also recommend coordinating with the parents, ensuring your grandkids' diet is consistent with what they get at home, and that the sweeter indulgences they get don't overlap with similar treats at home.
Ad. Article continues below.
Giving expensive gifts
Some grandparents may feel their money is best spent on their family once they've retired, and it's undoubtedly a loving thought. However, it can cause problems if it begins to get out of hand.
If parents are struggling financially, a grandparent buying a child an expensive gift, for example at Christmas, can mean it outshines that of the parents. Speaking and planning gifts, ensuring they're appropriate for the child's age at the time, is essential.
Allowing bad behaviour
It's well known among countless generations that grandparents like to treat their grandkids where they may not have treated their own children. They loosen the reigns and allow themselves to relax when it comes to discipline. But it's important to remember, particularly if you see your grandkids regularly, that they're learning from you just like their parents.
Ad. Article continues below.
Communicating with parents is essential to ensure the same rules are applied at each house – even if they have minor variations. Clinical Psychologist Amanda Gordon Hon FAPS, Adjunct Associate Professor at the University of Canberra, told Starts at 60 a grandparent's love is important for any child – and as long as they aren't intentionally going against the parents' wishes, it shouldn't have a negative effect.
"I believe children are very competent when it comes to knowing where certain behavior is OK, and where it isn't," she said. "They know they can't do certain things at home that they can do at their grandparents."
She explained: "I know I personally treat my grandchildren differently to how I treated my own children, and I don't think there's necessarily a negative impact on them. That being said, it's important for grandparents not to undermine parents' authority completely. If they're deliberately ignoring the parents' wishes, and the child is aware of that happening, then that can be very damaging."
And here's how they can get it spot on:
Showing unconditional love
Ad. Article continues below.
It's a long-running joke that kids are treated like young Princes and Princesses at 'Grandma's house', and it's a perfect place for them to relax and enjoy themselves. Unlike parents, who have to remain strict and at a certain distance to uphold their authority at home, grandparents can afford to relax more and become almost friends with the grandkids – especially if they only see them intermittently. After all, love is key when a child is growing up, and knowing grandparents will love them unconditionally is comforting at any age.
Providing a safe and different second home
Everyone should feel safe and comfortable at home – so an opportunity to find that in two homes is even better. While kids may feel most relaxed with their parents, it's key for them to trust other adults close to them too, and being themselves in another house can help their confidence.
Escaping rowing siblings and difficult parents, with a safe place to go, can be a relief to children now and again – and parents can rest assured they're in good care. Gordon added: "The best thing for a child is having loving grandparents slightly outside their normal day to day life at home. It's extremely important for them."
Treating kids within limits
Ad. Article continues below.
It's not all bad news and finger pointing – another study previously showed that ongoing emotional support from grandparents helped families make better food choices, and therefore lowered the risk of child obesity.
A loving grandparent can be one of the healthiest things in a child's life. Findings like this are simply a reminder to show that love in the right ways. Providing a treat now and again can show a child they're loved in the simplest of ways – it's just important to find that balance.
So what do you think? Is spoiling your grandchildren a good or bad thing?