There's a reason you feel so sleepy after Christmas Day lunch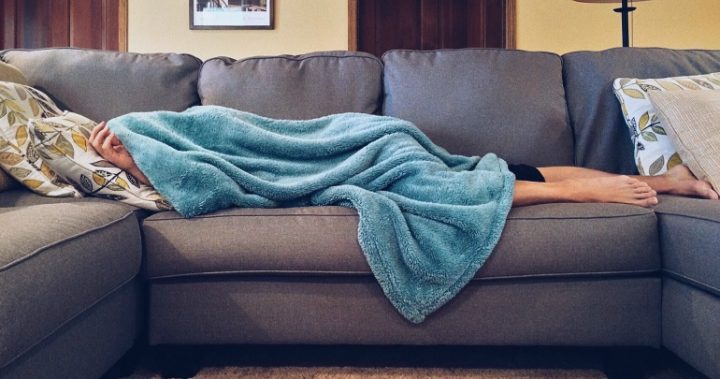 Christmas is a massive day for many families across the country, but there's always someone who ends up fast asleep in front of the TV ridiculously early because they enjoyed the festivities a little too much. 
While it's a day for celebrating, you don't want to be the person who misses out on the afternoon fun because you've become overwhelmed by the food, the booze and the presents too early.
According to Huffington Post, there's actually a scientific reason why people feel so sleepy after a massive Christmas lunch.
It looks like it all comes down to the digestive process.
"Feeling a little tired after eating a meal is perfectly normal," dietitian and sports nutritionist Robbie Clark explained to Huffington Post Australia.
Ad. Article continues below.
"There are a few reasons why we experience the post-lunch slump, but the main reason is due to the digestive process."
He explained that bodies require energy to function and when food is broken down as part of the digestive process, our bodies can trigger all kinds of responses.
He added that certain foods such as sugar prompt our bodies to produce insulin which can trigger "sleep" hormones.
Because we tend to eat a lot of unhealthy foods on Christmas Day, it explains why we tend to feel sleepy after a big meal.
Other foods such as potatoes, bread and snacks with lots of carbohydrates are also known to produce increased levels of serotonin, which can also lead to sleepiness.
Ad. Article continues below.
Thankfully, there are some easy and simple things you can do to ensure that you enjoy the day with your friends and family.
Graze on food
Most families have a massive Christmas lunch or dinner, with an endless supply of festive snacks throughout the day.
While it can be easy to overindulge and eat as much of your favourite foods as possible, it's a good idea to set yourself boundaries.
Rather than eating everything in one massive feast, try and graze throughout the day. You won't overwhelm your body and you'll balance your blood sugar levels.
Ad. Article continues below.
When people consume high levels of foods that their bodies simply aren't used to, it's easy for them to crash hard and become sleepy shortly after a big meal.
To avoid this, mix healthy snacks with the tasty junk food and eat smaller portions throughout the day.
Read more: Diet tips to prevent a blowout this Christmas
Pace yourself when it comes to drinking
Christmas comes once a year and for many, it's a great excuse to indulge in your favourite alcoholic beverages throughout the day.
Ad. Article continues below.
While there's nothing wrong with cracking open a few beers or relaxing with a glass of wine, remember to limit yourself.
Particularly in the hot weather, it's vital that you stay hydrated with water, particularly if your Christmas Day lunch contains a lot of salty snacks.
Try alternating between water and your favourite alcoholic beverages and where possible, try not to start drinking too early in the day.
Know your limits
There's often so much happening on Christmas Day that many people overcommit.
Ad. Article continues below.
You know your body better than anyone and how much you can handle for the day, so only do what you're comfortable with.
Whether this means getting people to help prepare lunch or leaving a gathering at a particular time, be sure to focus on your needs.
Becoming stressed out or overworked will mean that you don't enjoy the day and that you'll want to rest at the soonest possible chance.
Equally, if you have a partner or family member that does all the work, be sure to offer to help to ensure the day is enjoyed by everyone.
How do you manage the Christmas Day slump? Do you get sleepy after Christmas lunch?