Magda Szubanski farewells her beloved mother with touching photo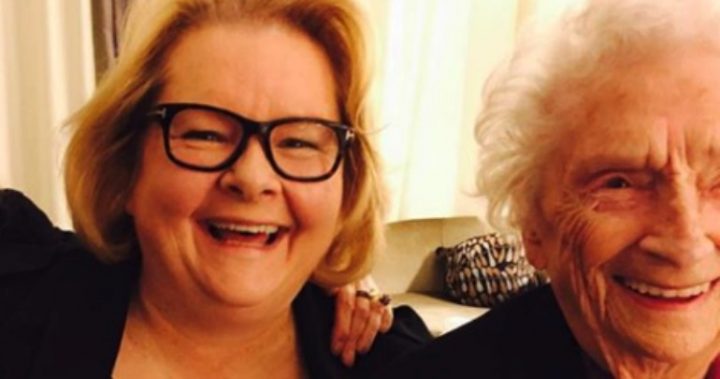 Magda Szubanski has bid goodbye to her beloved mother by posting a touching photograph of the pair clasping hands. 
The television favourite had been keeping fans and friends up to date with her mother Margaret Szubanksi's advancing dementia, last month posting a picture of her mother and saying that she had grown so much more frail since the snap was taken in June.
"Her voice has faded to less than a whisper. Her thoughts often an incoherent jumble of past and present, real and imagined," Szubanski wrote in August. "Now even her sense of humour is fading. I think maybe that is the thing I find hardest to bear. What Bette Davis said is so true – "old age ain't no place for sissies'."
Margaret Szubanski had migrated to Australia from Scotland at the age of 41, and died at the age of 92.
Announcing her mother's death, Szubanski accompanied the photograph of their clasped hands with a broken-heart emoji.
Ad. Article continues below.
It was a position the two spent much time in – back in February, Szubanski revealed that she and her mother spend a lot of time "just sitting quietly holding hands" at her mother's aged care facility.
"I go in nearly every day and sit with her or take her for drives if wshe's able," she wrote on an Instagram post. "And every day I see all the other daughters doing the same thing."
The actress had frequently celebrated her mother on her Instagram account, underlining her parent's sharp sense of humour and talent as a painter. Posting a snap of her mother on Mother's Day in May, Szubanski recounted how her mother choked on a Crunchie from her selection of Cadbury Favorites, when the honeycomb got stuck in her teeth.
Ad. Article continues below.
"She turned to me and with a wink she said, 'Fancy chocolate turning on me like that after all the devotion I've shown it," Szubanski wrote,.
In another post, she showed off a landscape painting Margaret Szubankski had done in her early 70s, adding that her mother was "receding" by the day.
"She is here physically but mentally she is already half in the spirit world," the TV star wrote.
Ad. Article continues below.
Margaret Szubanski was suffering from dementia, which affects more than 400,000 Australians and is expected to become even more common as the population ages. The condition is degenerative, with symptoms often including loss of memory, intellect, rationality, social skills, and physical functioning.
Have you had to watch your parents' slow decline in health? How did you handle it?