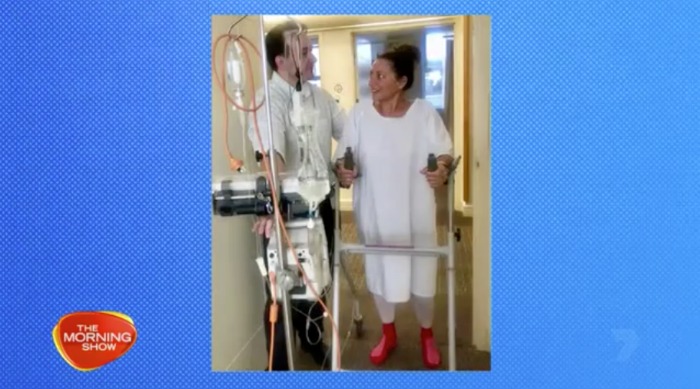 Gillies told the former All Saints star she thought hip replacements were usually associated with people older than those in their 50s, and questioned the impact it had on Parker.
"I hid it as well as I could and I stayed as fit as I could," Parker said of her hip problems. "I've got scoliosis as well so I'm working with that, as well as the hip. Unfortunately, when the hip loses that movement, your whole body acts like a splint. So everything is compromised. You have to think about how you sit, you think about how you stand, you think about how you get up."
Saying that she was originally diagnosed with osteoarthritis – a type of arthritis caused when the flexible tissue at the ends of bones wears down, causing joint pain and loss of movement – at just 40 years old but was told at the time that she was too young to have a hip replacement.
With the worst of the pain over now, however, Parker joked she was now "part-robot" because her new hip was made of titanium.
'It's a little bit heavier than the bone, so it's getting used to moving that around," she said.
And, while she admitted it was hard being away from work for so long, she said her Home and Away co-stars including Ray Meagher visited her and sent her messages and flowers. Viewers haven't yet seen her character Roo depart the show because filming runs so far in advance of screening, but she said all will be revealed soon when she packs her bags and leaves for a few weeks.
What do you think? Have you had a hip replacement? How long did it take you to recover?