Growing concerns Trump has dementia following slurred speech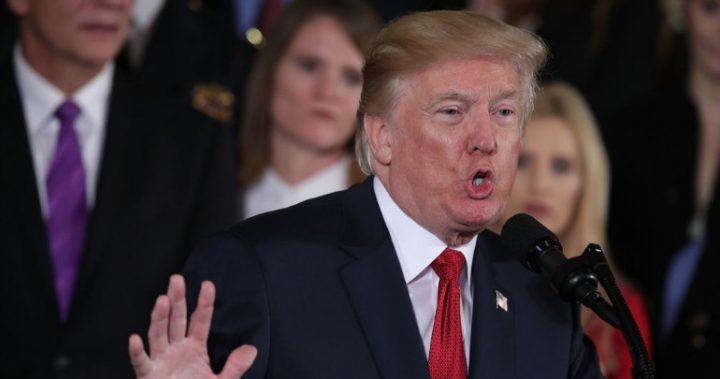 He's known for his outspoken outbursts and controversial political decisions but many are questioning how healthy Donald Trump really is.
The president of the United States has come under fire in recent times, with many suggesting he's living with dementia.
The allegations come after the 71-year-old gave a speech where he slurred his words.
While giving a speech at the White House about the current situation in Jerusalem and Israel.
WATCH: White House says "dry throat" is to blame for Trump's slurred speech pic.twitter.com/aNXS5ZHC0P

— TODAY (@TODAYshow) December 7, 2017
Ad. Article continues below.
During the talk, Trump appeared to have difficulty getting some of his words out.
Read more: Trump crosses Muslim 'red line' by saying Jerusalem is Israel's capital
An example was the president stumbling on typical phrases such as "God bless the United States."
He also had trouble saying words such as "Jewish", "Christian" and "Muslim".
Ad. Article continues below.
While some have suggested he may have had trouble with dentures, many are claiming that it's a medical condition that lead to his speech impairment.
While nothing has been proven, it questions if the public should be diagnosing the president, or anyone for that matter, without medical proof.
According to The Australian, White House press secretary Sarah Sanders has dismissed that Trump is suffering from any medical conditions.
"There were a lot of questions on that. Frankly pretty ridiculous questions," she said.
Read more: Donald Trump hits back at claims Melania hates being First Lady
Ad. Article continues below.
"The president's throat was dry nothing more than that."
She even suggested that Trump was willing to have a full health check to prove that he's fully capable of being the leader of the United States.
Sanders continued: "He does have a physical scheduled for the first part of next year.
"The full physical that most presidents go through will take at Walter Reed (National Military Medical Center) and those records will be released by the doctor following that taking place."
Trump's slurred speech is one of many health concerns that has been a topic of conversation since he was inaugurated last year.
Other concerns have included his weight, whether he is living with mental health problems and even his oral hygiene. 
What do you think? Should people be speculating on Trump's health without a formal diagnosis? Is it fair on people who are living with dementia and other live-changing health conditions?