Scrumptious sweet potato shepherd's pie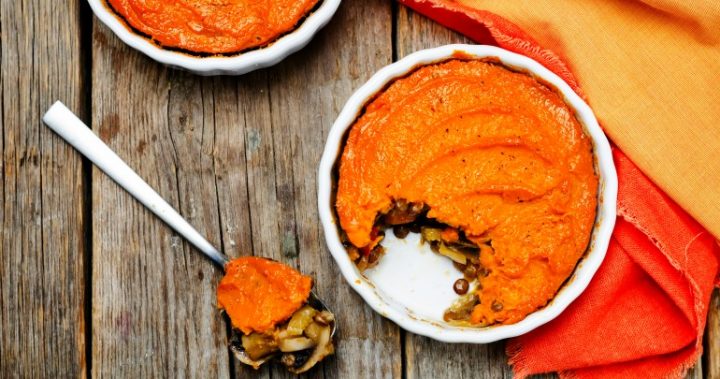 When it comes to a tasty dinner, nothing beats a delicious shepherd's pie.
You likely have a recipe that's been passed down for generations, but have you ever thought about putting a twist on the classic dish?
To add some extra oomph to your shepherd's pie, we've found that substituting regular mashed potato for sweet potato works a delight. The best part is this is a dish the whole family is going to love.
Ingredients
1 onion
2 carrots
1 tbsp vegetable oil
1 tbsp dried thyme
500g lamb mince
1 lamb stock cube
1 tbsp Worcestershire sauce
100g frozen peas
500g potato
400g sweet potato
3ml milk
2 tbsp butter
Method
Peel and chop carrots and onions. Place in a large pan with vegetable oil and dried thyme. Cook on medium-high until vegetables are soft.
Add lamb to pan and cook until brown. Continually stir until cooked through.
Use stock cube and Worcestershire sauce to make 500ml of stock. Add to pan.
Bring pan to a simmer and cover for 20 mins.
Add peas and cook for an additional 20 mins, ensuring liquid has soaked into meat.
Preheat oven to 180°C.
Peel and chop potato and sweet potato, then boil until soft.
After draining the water, mash potato and sweet potato with milk and butter.
Using an overproof container, add meat from the pan first, then top with mashed potato, ensuring it's spread as evenly as possible.
Add container to the oven and cook for 25 mins.