Best reaction yet? Chase host explodes with laughter at bird fanatic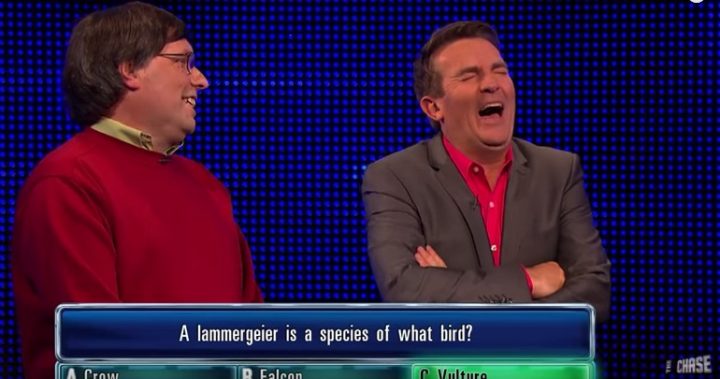 It's one of the most popular quiz shows in the world, and while we have our own version here in Australia, the UK version is just as popular.
Host and TV star Bradley Walsh is known for losing his composure when meeting some of his comical contestants, but this may be his funniest reaction yet. A bird enthusiast was on the show to face one of the Chasers, and was eventually asked: "A lammergeier is a species of what bird?" He couldn't resist reciting a list of facts and knowledge, much to the audience's bafflement.
As he continued to speak – backing up his answer that it was a type of "vulture" – Walsh was seen going steadily red in the face as he fought to contain his fits of laughter.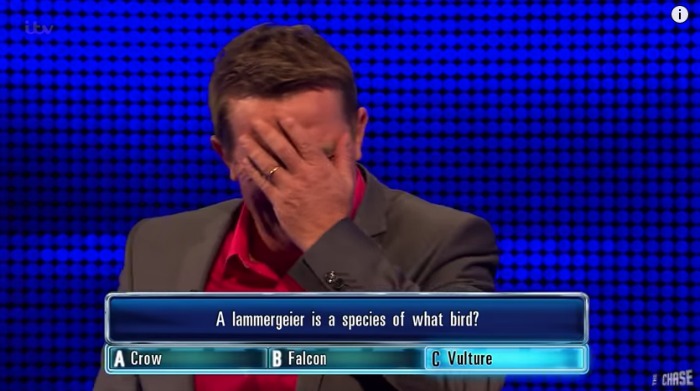 Eventually he exploded in hysterics, before burying his head in the tall male contestant's shoulder. Struggling to speak, Walsh went on to mimic the sound of the bird, before managing to ask the computer to display the right answer – which, of course, was "vulture".
Ad. Article continues below.
The contestant smiled before admitting: "I'd have looked stupid if it was wrong though wouldn't I," sparking another fit of laughter from the struggling host.
The episode itself aired years ago, but it has continued to stack up thousands of views online as fans share the hilarious footage. But it's certainly not the first funny moment from the famous TV series.
Read more: Funniest TV moment ever? Chase host loses it over 'inappropriate' name
A vintage clip from the show recently went viral on social media, with some fans calling it the funniest game show moment ever. Walsh had the all-important task of asking contestants questions.
Ad. Article continues below.
On this particular occasion, he could barely contain himself. He asked: "In what sport does Fanny Chmelar compete for Germany?"
At first he managed to keep himself together, but it didn't take long for him to burst into laughter. Given that the name sounds slightly inappropriate, we don't blame him! The more he laughed, the more hilarious the contestant and audience found it. Even Anne 'The Governess' Hegerty struggled to contain herself.
Read more: The Chase's Mark Labbett reveals life-changing health condition
At one point Walsh even burst into tears because he was laughing so hard. "We're gonna make a rule now, never say her name again," he said between fits of laughter. "I'd be straight down the court in the morning if that was my name. I'd have that changed straight away!"
Ad. Article continues below.
The contestant eventually got the answer wrong, but it remains one of the show's most hilarious moments.
Do you watch The Chase? What is your funniest moment in the show's history?
With Facebook removing news sites from your feeds we ask that you sign up for Starts at 60's emailers here. And to keep us on your wall, join some of our new Facebook groups and clubs:

News Junkies Club – Australia
News Junkies Club – USA 

See news on the change and links to all our other clubs and groups here.