Saturday on the Couch: The fascinating life of an English society hostess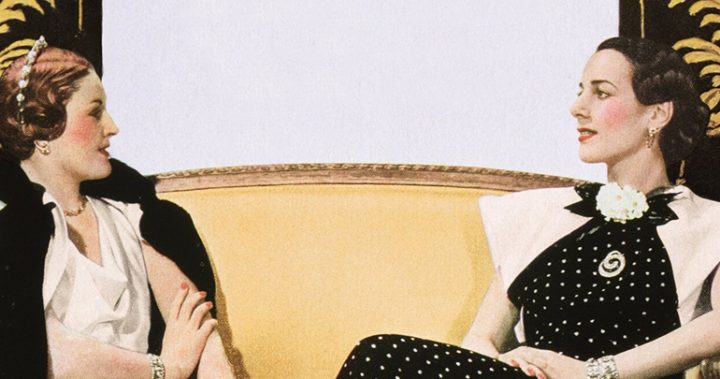 I was lucky enough to receive a copy of Queen Bees by Sian Evans. On its cover is the photograph of two elegantly clad ladies, seated, chatting. It got me wondering which of these society hostesses of the early twentieth century would I like to sit down with on a couch one Saturday afternoon.
The six British society hostesses – Lady Nancy Astor, Lady Sybil Colefax, Mrs Laura Corrigan, Lady Emerald Cunard, Mrs Ronnie Greville and Lady Edith Londonderry all glittered at society parties, hosted brilliant weekends at their country estates, were confidants of royalty, the politically and artistically powerful.
While my suburban home might seem very humble not all these women were born to great wealth. Margaret Greville spent her early years in an Edinburgh boarding house, Laura Mae Corrigan was born into rural poverty in the American Mid-West, Sybil Colefax was shuttled around relatives homes. This must have made their later wealth even more valued. I would like to ask them what they valued most about their new homes.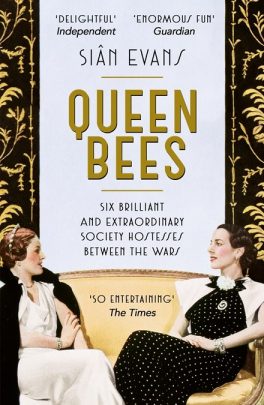 Their spheres of influence varied. Nancy Astor and Edith Corrigan moved in aristocratic circles amongst conservative career politicians. I rather think I'd like to ask them about the inside story of those turbulent times. Lady Cunard and Lady Colefax favoured artistic, music and literary society, including Virginia Woolf, Noel Coward, Sir Thomas Beecham. The Prince of Wales and Wallis Simpson were frequent guests. Mrs Greville, however, was a friend of the 'old guard' at Buckingham Palace and a Hitler enthusiast at one stage. 'When did you realise your mistake?', I would ask. Laura Corrigan attracted the Bright Young Things and threw Gatsby-style parties. Not my scene, but I would like to ask about her time in Nazi-occupied Paris.
Ad. Article continues below.
Marriage was made on different grounds, some for love, some for social advantage, some for wealth. The Corrigans, Grevilles and Colefaxes married for love, but I'm not someone who enquires about a marriage, seemingly happy or otherwise.
These women lived through turbulent times. They saw the end of the Victorian era, a generation devastated by the Great War, the social and economic upheaval that followed. They were participants in the Abdication Crisis and some were Nazi sympathisers. In both wars, these women were actively involved as volunteers.
Lady Astor became an MP representing Plymouth and championing maternal and infant welfare. She and Waldorf became reconciled. She was a fierce opponent of alcohol and Communism. At the end of her life, waking to find the family gathered round her bed, she asked, 'Is it my birthday, or am I dying?'
Lady Sybil Colefax retained a keen interest in society right to the end, maintaining friendships with those who talent she had encouraged to the end.
Laura Corrigan, a great hostess, was often the butt of jokes during the twenties and thirties, but after the war, received honours from the governments of both France and England.
Ad. Article continues below.
Mrs Ronnie Greville was a close friend of the royal family, leaving her jewellery to Princess Elizabeth, the wife of the future George VI.
Lady Cunard continued her social life, dying just before her money ran out and estranged from her only daughter.
Lady Edith Londonderry, while playing, the role of political hostess, also provided practical support to safe midwifery practices, leading to the passing of relevant acts of Parliament. She also created famous gardens at the family home, Mt Stewart, since given to the National Trust.
Who would I choose from these noted society hostesses? Lady Edith Londonderry, I think. She would have so much to tell of her voluntary efforts in the wars, her inside knowledge of the interwar period, her work for mothers and babies, her care of her garden.
Who do you fancy chatting to?
Queen Bees by Sian Evans (published by (Hachette Australia) is available now from Dymocks. Click here to learn more.