Cookbook Corner: Roasts you can make with a single pan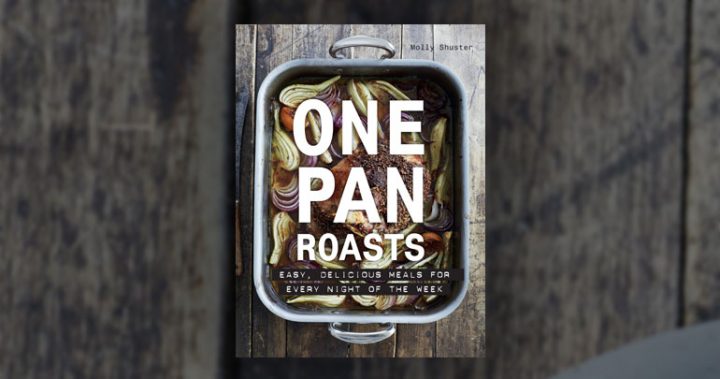 How I enjoy opening a cookbook that has recipes that I want to make. One Pan Roasts, by Molly Shuster, is just such a book.
Eighty wonderful recipes that any one of us can make, with ingredients found in our pantries and fridges and easily sourced in the local supermarket or farmer's market. And the best thing of all, they are all cooked with just one pan. Yes, she has taken it one step further than our Sunday roast of lamb or beef and elevated it to a technique where a whole family meal can be cooked in the oven in one pan – and that includes vegetables as well. Just think of the dishes you won't have to wash.
Molly Shuster gives us a formula to follow. There is finding the technique that will help you get your best from your ingredients, then finding the right pan for your creation, also choosing your main ingredients, plus your cooking liquid, then your aromatics and your 'five a day' veggies. Add herbs and spices, get your timing sorted so all of your ingredients are cooked perfectly and then sort out your finishing touches – and guess what, it is all very easy. A word that I love in my cooking vocabulary. It's easy because Molly tells us exactly how to do it. Easy peasy.  
One Pan Roasts, by Molly Shuster, suggests having three sheet pans available in differing sizes. She gives us a few simple recipes for sauces to enhance the meals and then gets right into the meals we can cook in one pan – all eighty of them. Firstly poultry and meat are highlighted, with my favourite being Pancetta chicken made with chicken thighs and potatoes. The herbs and spices are scrumptious and the addition of pancetta takes it to a new level. A meal for two which could be doubled if needed. And that is only the beginning. From sumptuous roast chicken, wine braised oxtail and roast pork and lamb shanks, the recipes are usually less than ten ingredients so are high flavour and low fuss.
Ad. Article continues below.
The seafood section is an inspiration. You can have all of your vegetables baking away and then add your salmon fillet to complete your meal. As the timing is all included you have no worries of over or undercooking a portion of the meal. Harrissa prawns and eggplant. Yum. The food is simple, flavoursome and authentic. Something most busy cooks surely appreciate.
I'm a big veggie lover so the vegetable section had me drooling. Stuffed portobello mushrooms or whole roasted cauliflower take your fancy? It certainly took mine. Many of these are accompaniments to add to your other pan meal, and some are a complete meal in themselves. Red vegetable curry (which I have made) is simple and flavoursome. I put it together in less than five minutes. I cooked some rice and there was dinner.
Molly finishes her excellent book with a selection of desserts which can be made in the oven in a sheet pan. Maple pears or apple crumble that is not the same as your mothers. Vanilla roasted peaches or Cherry clafoutis. My mouth is watering as I write this on a cold rainy afternoon. Molly concludes with some clever appetisers and snacks, plus a section on easy accompaniments to the main baked meals. Silky mashed potatoes and creamy polenta.
One Pan Roasts is a winner in my eyes. In a time poor world, cooking a healthy family dinner after a day at work is often a challenge. The joy of cooking a whole meal in the oven (and your easy dessert as well) can utilise your oven fully, whilst keeping in all of the flavour and leaving you with a minimum of washing up.
Ad. Article continues below.
I think that the smell of slowly roasting food is one of the most blissfully enticing smells in the world, and yet the technique can be woefully ignored by many in favour of fast takeaway meals which offer no nutrition or flavour.
I would wholeheartedly recommend this wonderful book for the busy mum or dad with a hungry family, for the young people dashing home from work and even for some of us older people. Roasting our food is an ancient technique which maintains flavour, moisture and food integrity. This is a wonderful recipe book and highly recommended by myself. Check it out.
One Pan Roasts by Molly Shuster is available from Dymocks. Click here to learn more.