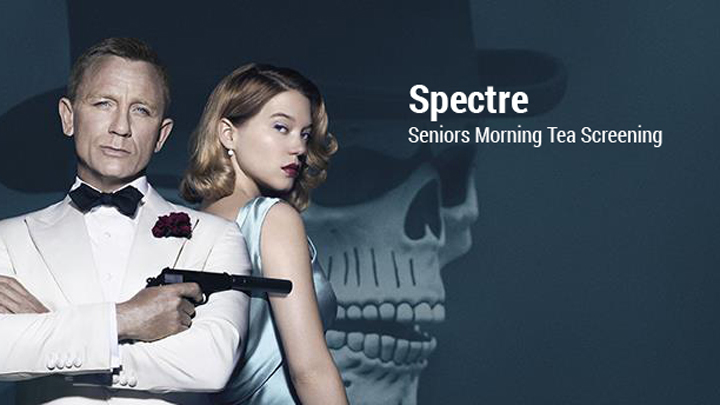 There are times when I am forced to eat my words – Daniel Craig in the latest Bond franchise Spectre does a good job, and from a Connery fan, this is high praise indeed. Director, Sam Mendes coming off his success with Skyfall, gives us a cutting edge Bond in this new escapade.
Followers of the genre, know the Spectre organisation and in this film we see more of its tentacles, such as the people they control in politics, science and universities – even in M15 itself.
No Bond film is complete without the obligatory gadgets, and Ben Whishaw as Q is a loveable nerd.  But this film is not gadget driven. It is a psychological thriller, relying on storylines, rather than the hidden knife in the shoe.
Spectre includes analogies to previous Bond films, including the resurrection of Jaws, from Moonraker and a scene on a train reminiscent of From Russia with Love. Actor Dave Bautista who plays the Jaws-like character Mr Hinx has lethal thumbnails, rather than teeth. The main villain Oberhauser, played by Christoph Waltz, gives a great performance on many levels. Bond realises he has a personal connection to this man – can you guess before the reveal who Oberhauser was in a previous life?
As politically correct as we may be in this day and age, Bond is not the character we know without women in his life and two beautiful women grace the screen. Monica Bellucci plays Lucia Sciarra, widow of a dead villain who is now on the hit list of his former associates. Then, there is, of course, Bond's love interest played by Lea Seydoux. Both women are important to the plot and its twists and turns. When Dame Judy Dench left, I screamed "Foul" but Ralph Fiennes, if not filling her stilettos, is good as the new M. For the car buffs, look for the scene when Bond parks his car and then the car chase which follows.
The film is long 2.5 hours, but will have you riveted to your seats for every minute; it is all you expect from Bond. The women in the film are pivotal to the story, not just sex symbols; in this day of explicit language, there is none; we are spared gratuitous blood and guts, we are expected to use our imagination. Add world-wide locations, a Guinness Book of Records entry for the largest explosion in a film, clothing designed by Tom Ford, an easy to follow story, a superb cast and soundtrack –  it all adds up to BOND!
Thank you to Events Cinemas for the ticket – I thoroughly enjoyed the Seniors Morning Tea screening for over-60s, which offered free tea, coffee and snacks before the show. It's valuable community service and a great way for people to meet each other.
Are you a Bond fan? Did you enjoy this latest adventure as much as John did?

This blogger review is proudly supported by Event Cinemas – now offering $8.50* movie tickets to members of the Starts at 60 community! Click here to learn more about Cine Buzz for Seniors.
Stay tuned to our event listings for more Seniors Morning Teas around Australia!
Comments