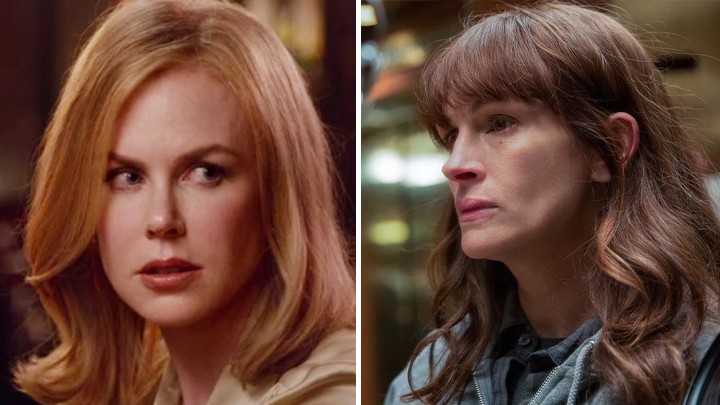 In Los Angeles, FBI investigators Ray and Jess, are part of team maintaining surveillance on a local Mosque following the 9/11 attacks. New to the team is Harvard graduate Claire, their liaison in the District Attorney's office. Ray is attracted to Claire, and Jess takes every opportunity to suggest that they should date, even though Claire is already engaged. Thus is the simple premise for Secret in their Eyes, the latest offering from director Billy Ray, who is also credited along with Juan Jose Campanela with writing the screenplay.
As in most surveillance scenarios, not much is happening, until the trio are called to a dumpster near the mosque where they find a girl who has been raped, brutally murdered, then bleached inside and out. Ray immediately recognises the murdered girl as Caroline, Jess's daughter.
Not surprisingly, when she learns who the victim is, Jess breaks down. She has to leave the home she shared with Caroline and move away from the city. Whilst helping her pack, Ray notices a young man in a photo taken at their office family picnic day. He finally identifies the young man as Marzin, an FBI informant, who has infiltrated the mosque in order to name those who, intelligence indicates, are planning another terrorist attack in Los Angeles.
Because of his informant status, and despite all indications that he is the murderer, Marzin is released because a terror threat overrides a murder/rape in the eyes of the highest ranking officer, Martin Morales.
With the loss of her daughter, Jess becomes a type of robot, continuing to work as a police officer, but with no spark of life. Ray leaves the FBI and from the private sector continues to trace Marzin for 13 years until one day he is certain he knows the new name and identity of Caroline's murderer. Claire marries her fiancé and becomes District Attorney. And frankly that is all I can tell you about the story without spoilers.
This movie time shifts between now and 13 years earlier, not always smoothly. There are many plot twists and just when you think you know the answers, think again. Clever me thought I'd worked it out until the final twist was revealed.
Secret in Their Eyes is adapted from a book La pregunta de sus Ojos (The question in her eyes) by Argentinian author Eduardo Sacheri. The book became a 2009 hit movie which won both the Oscar and BAFTA for Best Foreign Language Film. Sorry, but despite an excellent cast, I doubt the English language version will reach these heights. Chiwetel Ejiofor as Ray, Julia Roberts as Jess and Nicole Kidman as Claire and other cast members all do creditable jobs, the writing and directing are good, but don't add up to great.
The moral/ethical dilemma facing much law enforcement – "The Greater Good"- is strongly examined in this movie, from both sides. We are asked is one life worth as much as another? Can justice be denied/delayed to Caroline because there is more to be gained from letting her killer roam free? If nothing else, this should start some great coffee-after-the-movie discussions.
Secret in their Eyes may not be a perfect movie, but it is well worth watching.
Do you love a good thriller movie? What's your favourite?

This blogger review is proudly supported by Event Cinemas – now offering $8.50* movie tickets to members of the Starts at 60 community! Click here to learn more about Cine Buzz for Seniors.
Comments