However, many others saw the story from both sides with one commenter saying: "Law of the jungle, unfortunately we all have to eat". Another simply sided with the snake, calling the bird a "well earned dinner".
Read more: 'Spot the snake!': Sneaky reptile fools Aussies with backyard hiding spot
According to the post, the python disappeared back into the roof of the home following its meal, which some commenters said would be enough reason for them to move home. One person said: "Don't want this relaxing in my roof", while another wrote: "I think I would move house lol (sic)".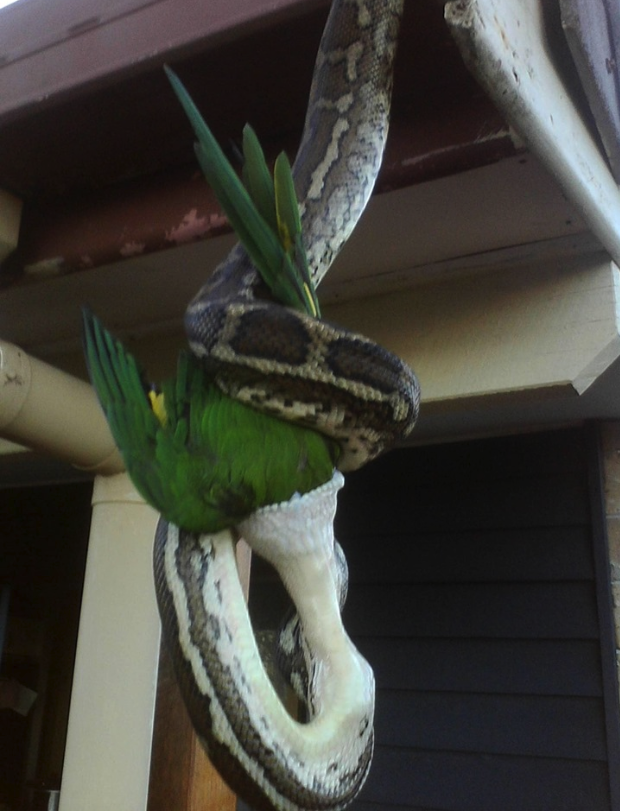 Not everyone was terrified of the python however, with plenty of commenters even complimenting it. One commenter wrote: "What a gorgeous noodle. He will sleep well now that he has had a delicious feed", while others described it as "beautiful" and "lovely".
Meanwhile, some people used the opportunity to share photos of their own pet snakes with one person proudly saying: "Can't wait till ours is 10 foot". While another called their own seven foot coastal python the "sweetest boy ever".
Wild coastal carpet pythons are the largest snake species that can be found in the Brisbane and Ipswich areas. While they're not venomous, they do have 80 backwards facing teeth that, if used on a human, can cause considerable lacerations to the skin.
Never late to a snake sighting, Brisbane Snake Catchers also posted a less threatening photo of a common tree snake found in a Brisbane school last week. Although this breed is generally considered to be safe, the page warned children to never approach or handle snakes on their own and to always wait for the professionals.
Look what decided to play a game of hide and seek with some students from a Windaroo school today. Luckily this was…

Posted by Brisbane Snake Catchers on Friday, August 9, 2019
Pythons are no strangers to popping up in homes all over the country, particularly in the Queensland region. Only a few weeks ago, a northern Queensland couple faced quite the ordeal when a pair of mating scrub pythons broke through the roof of their Cairns home.
Read more: Sssseriously scary! Horror as mating pythons smash through couple's roof
According to the Cairns Snake Catcher who was called to the scene, the breeding season for scrub pythons runs from July to late September and can often get quite chaotic as males fight each other to impress females.  As the snakes usually reside in the roofs of local homes, these mating rituals often result in structural damage to ceilings in the form of cracks or stains.
With breeding season upon us, it's important to take care when dealing with snake sightings. Staying a safe distance and contacting professionals rather than dealing with it on your own is always the safest option for both you and the snake.
Have you seen a snake this big in your own home? Are you scared of snakes or do you think they're misunderstood creatures?