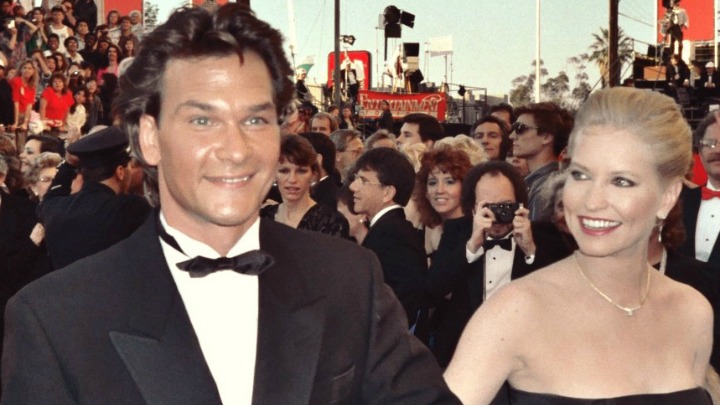 It has been revealed that in his tragic last days suffering from pancreatic cancer, Patrick Swayze was deserted, mentally and physically abused and cheated on by his most trusted partner in life – his wife!
Apparently, before Patrick, 57, died of cancer on Sept 14, 2009, his wife Lisa Niemi left the dying star to wallow in his own filth, reports Radar Online.
That's the shocking revelation by one of the "Dirty Dancing" icon's closest friends which crushed the vision of a Hollywood fairy-tale marriage which lasted 34 years.
According to the friend, Patrick's personal hell was made worse in his final months because wife Lisa Niemi kept the actor, who'd shrunk to a pitiful 90 pounds, a prisoner in his own home – banning his mother and loved ones from visiting.
But a year-long investigation by Radar has discovered the Ghost star actually died from a broken heart — Niemi had several affairs with both men and women.
"He loved her with all his heart but it was a serious love-hate relationship," the longtime friend told Radar.
"She would beat on him and he would beat on the walls and furniture. They fought and I covered up a lot of that — they destroyed hotel rooms, cars, their house …. It was abusive."
When asked if Niemi would hit Swayze during his 21-month cancer fight, the friend told Radar: "Oh yeah, it didn't matter. She wouldn't hit him with stuff — she would claw at his arms and neck. She would punch and slap him."
"As he got sick, he was defenceless," his friend added.
"Cancer bought him from 180 pounds to 90 pounds. She always had to upper hand because he wouldn't hit her. He was adamant about never ever laying his hands on her."
In fact, the friend charges Niemi was neglecting her dying husband whenever younger brother Don Swayze, who his main care giver, was out of town.
"Lisa would be gone for hours doing whatever she was doing and Donnie would come in and Patrick would be lying in his own feces and pee," the pal said.
The friend who spent years with Swayze and another family insider said Niemi was an "evil" moody control freak who was in charge of every aspect of the actor's life, his money, movie roles even how much he could spend at the store.
"He had another friend before me and Lisa had a falling out with him — so she pretty much forbade [Patrick] from ever seeing the friend again," the friend said.
Swayze's childhood friend, Charlotte Stevens, told Radar she encouraged the star to dump Niemi, who he married in 1975, because of several affairs.
"We would talk like old friends, like what was going on in our lives and [the affairs] would come up," Stevens, 63, told Radar.
"I would tell him, 'You mean to tell me she's having these affairs and you haven't stepped out on her?' And he would say, 'No I don't want it used against me."
Patrick however promised his mother Patsy to never divorce Niemi for fear that she would reveal a dark secret that would ruin his career.
Two months before Swayze died, Niemi, now 60 and remarried, stunned all of Swayze's friends and family by banning anyone – including his mother Pasty, from visiting him at their California home called "Rancho Bizarro."
Pasty died in September 2013 at age 86 – shortly after Niemi attempted to remove her from the Simi Valley home Swayze had purchased for her and the widow inherited.
"Could you imagine not being able to see your son who is dying?" a family friend close to Patsy told Radar. "It was unexplainable. There is no excuse for it and I don't know what Lisa was thinking."
Even more stunning, Swayze wasn't allowed to leave.
"She wouldn't let me see him two months before he died!" the pal complained.
"She wouldn't even let him go outside the ranch… She pretty much kept him prisoner."
Unable to communicate by phone, the lonely actor, eager for contact with the outside world, would frequently call friends and family in the middle of the night.
"He'd call me a 2 a.m. after she had already passed out and we would talk at that time!" the friend claimed. "It was unusual but yet again that was Lisa, she was that way."
It was during the same two-month period that Swayze signed a new will that left his entire $40 million estate to Niemi and absolutely nothing to his family.
Swayze's friend has not be able to reveal his identity due to legal reasons but many believe he is seeking justice for Swayze who could not defend himself during his last moments.
Some people say that Niemi should be investigated so Swayze will have justice finally.
Do you think Lisa Niemi should be investigated for this? Have you heard of similar stories of people you know?
Comments