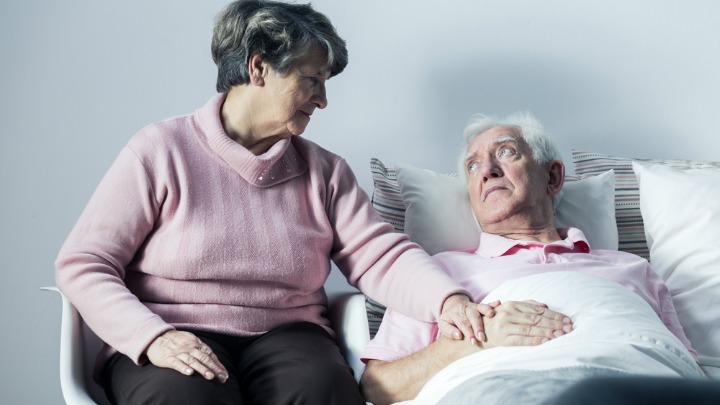 Read Part One of this story here.
The next morning he insisted on going to work. I told him I did not think that was a good idea, but he went anyway. By the time he had got to work, his arm had curled up and he could not move or straighten it. He told his boss he was going to the doctor and drove himself there. When he got there he could not open the door properly and I was told later the receptionist came to his aid. A doctor saw him straight away and he was told he had a stroke or had a brain problem. The doctor checked his heart and said it was ok. He then was driven elsewhere to have a chest X-ray as well as a cerebral CT scan.
It was noted something was amiss so they repeated the scan with contrast. A very large aneurysm was noted on the side of his head where it had struck his shoulder in the accident some 3 years earlier. I by then had arrived and took him to the hospital.  They could not see him for 8 days so the hospital discharged him.
My cousin is a catholic nun of many years standing and was at that time and maybe still is on the board at a private hospital. She got him an immediate appointment to see a doctor who took a look at his scans  then asked his registrar to admit him. I was sitting with my cousin when Ian was in bed at the ER. The first question the doctor asked Ian was had he hit his head or fallen down some stairs, ie , suffered some sort of head trauma.
As it was 3 years later and we were in shock at what was going on we did not relate this to the car accident. In Ian's defence he was not with it at that time and he would not have been able to remember anything.  We were in the twilight zone and it was all surreal. We both knew something was wrong, but this was the worst possible outcome. It was said at the hospital that this was probably inoperable. There are no genetic factors.
We were told often that Ian's symptoms were extremely rare, due to size was usually accompanied by rupture. It was 1.8 cm in size. He had a stroke in surgery due to blood supply shut down in the brain for 2 and a half minutes. Two titanium clips were put on the aneurysm site. His blood pressure was off the chart but a lot is missing off his files.  They opened the operating theatre on this particular Friday for Ian.
Ian was in surgery from 8 am until 3 or 4 pm, and in ICU after where he invented his own language. Staff could not understand what he was saying. On visiting, Ian recognised our son but he did not recognise me. A lot of the complications Ian suffered are not in his files. I was told by doctors that no person would ever forget Ian's surgery.
He started having anxiety attacks straight away during recovery. He began stuttering badly, unable to get words out. He also had forgotten how to eat. Myself and our son had to teach him how to eat. He had forgotten. Everything for him was tomorrow. He was in bed for 3 months. We were all fighting for normality but boy was it a struggle.  Six weeks after surgery his knee was swollen badly, he was unable to walk so an ambulance took him to the hospital where his knee was aspirated. We were told it was the worst they had seen. Test from aspiration stated pseudogout. Yeah right. Knee would swell every now and again and was treated with anti inflammatory drugs.
One day four years later Ian could not walk and was taken to the hospital, where the Dr said he thought he had a blood clot in his leg. Nothing remarkable was noted and he was sent home on Nurofen. He was diagnosed 6 months later in Sydney with a total blockage of the femoral artery for which he had a bypass but was back in surgery some hours later with a repair to the femoral in the abdomen.
From that point on I told the doctors that this was heparin induced ie it had the reverse effect. It causes clots in what is termed hits. He has had more than a dozen procedures on his leg, with them all resulting in clotting due to heparin being used. Every time I would tell the doctors and they would say no, no, no, everybody can have heparin. Well my dear doctors they can't.
From head trauma Ian has been left with many problems – short term memory, problems with prescription drugs, unsteadiness, crippling headaches, manic for a greater percentage of the time, stuttering as well as getting very angry with things at times.  The difference being now i have control with Ian's understanding.  After the accident up until surgery I had none; now I deal with these issues.
All in all this has collectively destroyed our lives. It is not a nice thing to have had to go through. Ian has proven to be unique in things that have happened along the way as he has had had procedures that nobody has ever had. The doctors had nothing to lose. Having lived through this anything is possible with Ian.
When we first lodged a claim it was 8 months after surgery because that is when we pieced together what had happened. Also when he was admitted for surgery the first question asked was had he fallen down stairs, hit his head. We did not click at this point, our heads were trying to absorb what was happening.
You get 6 months after an accident to lodge a claim and for some reason the insurance companies think everybody should know that. Well we did not. In regards to when we first lodged the claim, Ian was not mentally fit enough to carry it through. He had had a stroke in surgery as well. When he felt a bit stronger and after the leg problem arose we engaged another solicitor. We were told no problem because a claim had been lodged. We were told a substantial amount of money was involved and it would be over fairly quickly. Now all these years down the track, the insurance company is using the time frame to fight back at us. Everything law wise is for the insurance companies. At this point we are in trouble financially. Medically it has cost us a small fortune. We have been trying to keep a roof over our heads by refinancing, but as Ian is on DSP and myself on a carer's pension, no one is interested in helping us.
The leg I have only just touched on but it was a bigger nightmare than the brain episode. The leg problem originated at aneurysm surgery obviously from the large dose of Heparin that was needed. I find all this very disturbing in this day and age. I have to wonder what insurance companies are for. The only thing Ian did was to hop in the back seat of a car to get a lift home.
I lost Ian on the day of the accident and have not seen him since. The Ian I have now is a completely different person, certainly not the one I married. He has 2 clips on an artery in his brain and his leg has had 3 by-passes and we have lost track of the amount of stents and balloons.
As I sit here and read this it feels like a fictional story but the pitiful part is that it is all true, it is us.
Have you ever had something like this happen to you?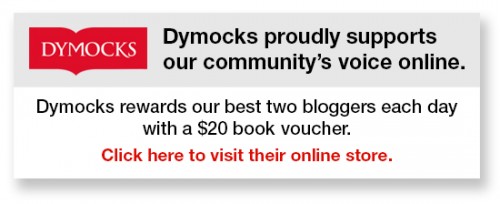 To write for Starts at 60 and potentially win a $20 voucher, send your articles to our Community Editor here.
Comments