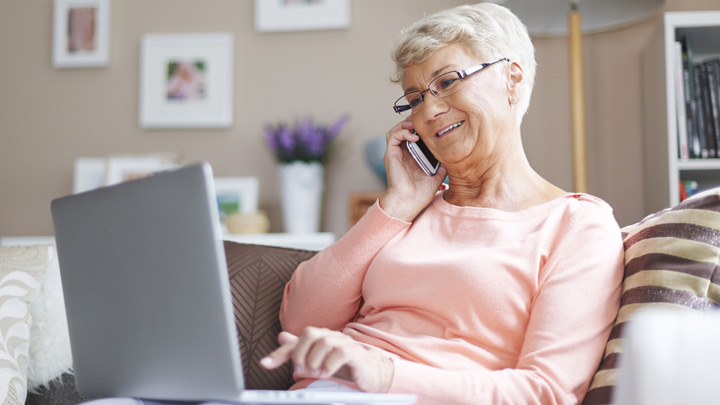 What is the thing that when you leave the house without you feel bare and immediately you are angry with yourself when you realise you forgot it? Your cortisone level increases, your heart starts beating faster and you curse to yourself.
All this upset over a small piece of technology because you are afraid of what you will miss that day. It's your lifeline in a way, it helps you to organise your life, to keep track of your appointments and reminds you about them as well. It allows you to keep in touch with your friends and extended family and grandchildren no matter where they are in the world and reminds you of their names and birthdays as your memory fades. It even allows you to pay your bills, run your business, track your daily exercise, monitor your heartbeat, store recipes you want, plan your journeys, give directions to places you want to go, store your music and it can even allow you to send messages in print form from verbal instructions. It's your best friend, the one thing that you can fully rely upon to do as you want it to like a personal assistant that won't answer you back. It will even allow you to keep track of your children so you know where they are at any time. It is your photo album where you keep daily pictures of your grandchildren as they are growing up.
You probably reach for it first thing in the morning when you wake up to see the news updates tailor-made to your requirements and read your emails. You can't help taking it out during the day to see if there is anything new on Facebook, Twitter, Linkedin, Starts at 60, or whatever social networks you belong to. You are addicted to it, you automatically take it out on the bus, on trains and in taxi's. You even look at it during dinner and while you look at TV with your partner. You know it is anti-social to do so and even bad for relationships, but you still do it, you can't help yourself. No one says anymore when they meet their grandchildren'' oh you have grown so big'', or ''you have changed a lot'' there is no need to because you see them every day as they grow no matter how far away from them you live. You know it is too intrusive and that you can control access to it, but like an alcoholic who won't stop drinking you don't do that. By now you probably know I am talking about the iPhone your best friend and companion.
I am in Australia on a gap year with my husband Declan so we can be with family here.
Our lives are all organised on our iPhones. Even with its faults I love my iPhones because it makes my life so much easier. I talk to my children in Ireland regularly on Facetime and it's like I am sitting with them – I message them in between chats, I share photos with them on messenger, I can post on Facebook regularly and share events with family and friends at home. I book all my appointments on Cozi, my electronic diary, and I share this information with my daughter, my husband and my son-in-law so they all know where I am so as not to double book my days minding our grandchild. You could say I am very dependent on my iPhones but there is a downside. It can cause information overload sometimes and too much white noise. Bad things happen on the internet and people need to understand the good, bad and the ugly about all types of communications technology.
As Ruby Wax said at her 2015 Sydney show, I sent my memory to the cloud and I have forgotten how to retrieve it. She says that our brains are frazzled with so many simultaneous happenings capturing our attention so that our brains cannot lay down long-term memories anymore. We need to understand how to set privacy settings on the various social media sites like facebook and Linkedin. People's identities have been stolen and it is a very traumatic thing to happen anyone. It is important to understand the technology we are using. Too much information can cause stress and it may be damaging our brains as well. How can we distil all the wheat from the chaff so that we can live a long, peaceful and more fulfilling life? Yes, I agree, there are negatives to using iPhones and other technology but for me the benefits far outweigh the negatives. The key is to control your access so that it becomes your personal assistant.
Don't be a slave to technology anymore, let it be your slave.
Share your thoughts below.
Comments