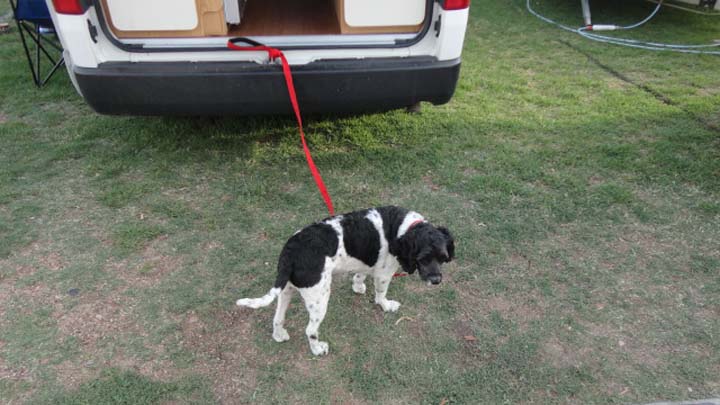 My wife and I and 'not Max the Dog' have hired a small campervan for a trip from the Central Coast of New South Wales to Moree and Broken Hill Via Lightening Ridge. It is a voyage of discovery with the added benefits of the thermal pools along the way, which will we hope have some health benefits including arthritis relief for my wife Anita.
One of the conditions of hire of the campervan contained in the 8-page document is that pets are not allowed in the campervan. 'Not Max the Dog' is a Cavoodle. He is a cross between a poodle and a cavalier King Charles Spaniel. He is small. His hair does not fall out, he does not have fleas and has all the vaccinations and monthly flea and tick pills. If you take 'not Max the Dog' on any trip he has no interest in the journey and just sleeps. His interest is the destination and the new smells at the end of the journey.
At the pick-up -the-van depot, we were immediately greeted by "Are you here to pick up or drop off?" This looked good for a quick pick up and getaway. Not likely! Two hours later and, two French and one German operatives later we were eventually able to get our takeaway campervan.
It seems that each of these operatives were working with more than one customer at the same time while their computer system was not responding. Despite our pre-form-filling on the internet this did not make the episode any quicker.
The campervan itself was only barely clean with external mud still on the bottom and internal dust and grime at the harder to get- too areas. Considering it had only 6,600 kilometres on the clock, one would have expected a near perfect condition van. The van had to be returned to the repair section to fix a hinge on a door which I could have done in two minutes, not the fifteen it took.
Each of the three bi-lingual operatives individually went through the process of explaining the insurance because we had opted for the standard insurance not the expensive one. The last operative seemed to expect that we were going to take out the highest level of insurance making the campervan hire very expensive. I expected that they would try this. They wasted their time and mine.
We took the van home for packing. On switching on the fridge in the campervan the overpowering smell of stale prawns erupted. Thanks to vanilla essence this was soon remedied. The van is now ready for the off, on a journey we are looking forward too.
So tomorrow we are on our way with of course 'not Max the Dog'.
Have you been travelling with your pet before?
Comments