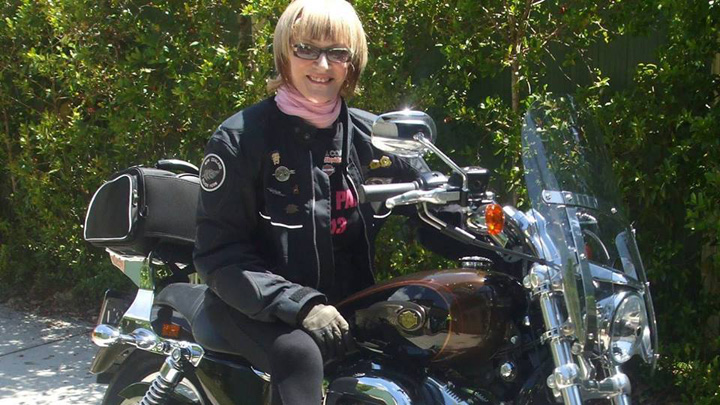 I contacted ovarian cancer 11 years ago after never having any health problems prior to this diagnosis. I have played rep hockey in NZ with the distinction of being the first mother to have her daughter aged 16 years old selected as well. I played top grade squash and also taught Les Mills aerobic program. We came to Australia in 1982 via Les Mills World of Fitness when they were just breaking into Australia. I taught in NZ as well.
I was fortunate to beat the cancer as the survival rate is really low – they call it the silent killer because it is far too late when they first detect it.
My husband, aka my rock, nursed me through those dark and scary days of months of chemo which I personally found debilitating. When I was finished with chemo, I told him to buy a new motorbike. I had also thought they were dangerous and a waste of money but his love for these machines started when he was only 15 years old and I wanted to repay him for nursing me through several operations.
In July of 2006 I bought a little 250 cc Virago and he proceeded to teach me to ride. I got my Ls and Ps within 4 months and that was my journey into Harleys. No 1 was an 883 in the December 2006 and then 2 years later I upgraded to the 1200cc Custom which I still have. Her name is Orange Diva. We have been babysitting two great grandchildren for 6 years with the eldest starting school last week and we still babysit the 2 year old.
My Harley soothes my soul and I love it with almost inhuman passion!
Do you have a bike or another hobby you love?
Comments