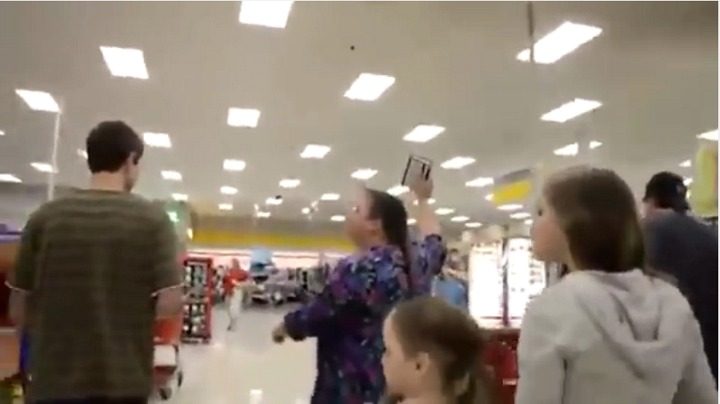 A video of a woman has gone viral after footage of her protesting Target's rules about transgender bathrooms surfaced on the internet.
The mother of 12 marched through an American Target store with her family holding a bible in her hand and shouting about Target's "wicked practice" of allowing transgender employees and shoppers to use the bathroom they feel most comfortable in.
Shocked shoppers looked on as she yelled at the top of her voice and accused Target of "opening its bathrooms to perverted men".
She said "what Target has done is very hateful" and called the store a "dangerous" place for mothers to bring their children.
The video has sparked debate in Australia where the rules around bathroom use in both public and in schools has been in the spotlight lately.
As it stands, registered transgender people in most parts of Australia are entitled to use whichever bathroom they identify with.
This has caused problems for some people though who say these laws expose vulnerable people to danger.
Some have expressed concerns that woman, in particular, could become targets in gender-neutral bathrooms, saying it opens the doors to predators looking for easy access to their targets.
As part of the government's Safe Schools Anti-bullying program the topic of transgender children and gender-neutral bathrooms caused friction between many parents and teachers who failed to see eye-to-eye on the topic.
Studies have shown that trans people face an alarmingly high rate of abuse and discrimination and many are hoping that gender-neutral bathrooms could be answer to what has become a huge issue for them.
Others though say it raises too many concerns and possibilities for dangerous circumstances to occur.
Target responded to the woman's outburst, saying it stands by its decision and welcomes transgender people into their store.
"We welcome transgender team members and guests to use the restroom or fitting room facility that corresponds with their gender identity," the company said.
"We stand for equality and equity, and strive to make our guests and team members feel accepted, respected and welcomed in our stores and workplaces every day."
Do you think every store and shop should have gender-neutral toilets? Would you feel safe or unsafe in a gender-neutral bathroom?
Comments