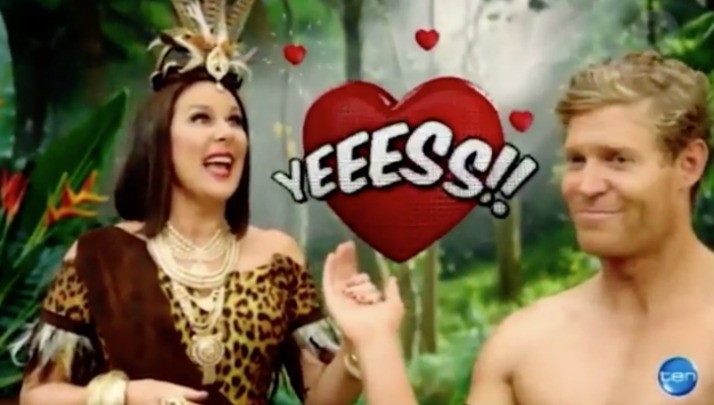 I'm A Celebrity… Get Me Out Of Here was one of Australia's top-rating shows last year, and its hosts Julia Morris and Chris Brown are considered Network Ten gold. Despite this though, some viewers have pointed out a bizarre double standard.
Dr Chris Brown is presented as a wide-eyed, well-meaning veterinarian. At the same time though, Julia Morris seems like an overzealous "cougar" who persistently makes suggestive comments about her co-host.
"Chris is totally obsessed with me", Julia has said in the past. Along with remarking that "clothing is optional" and that Chris's body is "distracting".
This seems to be a strange contradiction on behalf of Network Ten. Last month, Melbourne Renegades cricketer Chris Gayle was fined $10 000 for flirting with a sports reporter on camera.
"Hopefully we can win this game and we can have a drink after", Gayle told Network Ten reporter Mel McLaughlin at the time. "Don't blush baby".
Gayle's comments were immediately put through the public wringer, with many people criticising him for making "sexist" remarks and "unwanted advances".
Why then, is Julia Morris's pursuit of Chris Brown so easily accepted? One Network Ten executive has even said, "Julia is like a heat seeking missile and Chris is her closest target".
Imagine if these roles were reversed! As one Australian TV viewer pointed out, "I have patiently waited for Julia Morris to stop sexually harassing Dr Chris Brown. I assumed it was part of the act".
"However she went further and further until she introduced herself as his wife. The next episode Chris cited sexual harassment… My comment to the directors of this show: Sexual harassment is never funny".
Columnist Jackie Sinnerton has also weighed in on this awkward innuendo: "I wonder how the message behind this uncomfortable barrage of banter translates in the real world?"
"Sadly, there are people who every day are dealing with unwanted sexual attention. Their lives are a living hell and by no means is it funny".
"The messages of what is an appropriate level of flirting on our screens are so mixed that I am seeing stars", Ms Sinnerton adds.
On the other hand, one online comment urged Aussies to simply have a laugh: "Maybe most Australian men still have a sense of humour and aren't always looking for something to get offended by?"
Where do you stand? Are we seeing a double standard on Australian TV screens? Or is the banter between Julia Morris and Chris Brown just good fun?
We Made A Drinking Game For "I'm A Celebrity Get Me Out Of Here" Australia #ImACelebrityAU https://t.co/df58gBvXSl pic.twitter.com/789LHtn7R1

— BuzzFeed Australia (@BuzzFeedOz) January 31, 2016
Comments