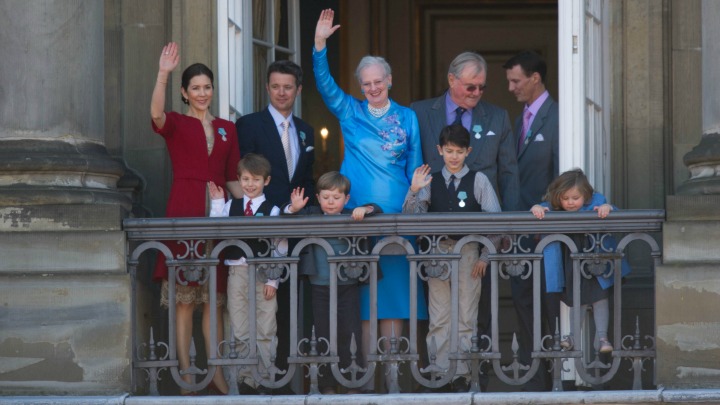 Denmark's 70-year-old monarch, Queen Margrethe, is a much-loved and respected royal throughout Europe. She is also Princess Mary's mother-in-law and the grandmother of little Christian, Isabella, Vincent and Josephine.
Throughout 44 years of steadfast reign, Queen Margrethe has made regular New Year's addresses. Her latest royal message shares some wisdom for older people, and touches on the issue of ageing within her own family.
Whilst acknowledging the threats of terrorism and those recent attacks in Paris, Queen Margrethe's New Year message remained decidedly upbeat. She described how the people of Denmark have much to be thankful for, and the same can be said for most Australians.
"We are healthier and fitter than previous generations", wrote Queen Margrethe. "We live longer, we have more leisure time and more opportunities to spend it. In short, we are extremely privileged compared with the world at large."
"Nevertheless, it sometimes looks as if more people worry more about less. Do we eat too much? Do we eat healthy enough? Are the instructions for use understandable? How to make our mark so that everybody can see how important we are, each and every one?"
"How will we cope when we grow old – and live to a great old age; that is what we want. We should notice that most of us are healthier and fitter than our parents or grandparents were", said Queen Margrethe.
The monarch has reminded modern-day parents not to worry about little things. "We should probably not worry so much about our children either. We cannot hold their hands forever. We must give them room and not protect them so zealously that they do not get the chance to learn any lessons of their own."
"Previously, children were left to play on their own, without any interference from adults and with plenty of room for imagination. Sometimes they would fall and hurt themselves, and sometimes it might be a bit difficult to explain how the trousers had got torn or what had happened to the hair bow. "Up you get" the grown-ups would say – and the children managed. It meant lessons learnt, which they might well have preferred to do without, but that is part of life itself."
Discussing recent trips to Greenland that Queen Margarethe has made with her husband, she revealed some personal information. "My husband has made the decision that the time has now come for him to "slow down" – or, if I may use a common Danish term – to retire. Going forward, the Prince Consort will therefore only to a very limited extent partake in the official events, which for so many years have been a natural part of his life. It is his decision, which I understand and respect."
Queen Margrethe concluded her heartfelt message by wishing everyone safe holidays, and a very Happy New Year. You can read the full transcript HERE. 
Are you pleased that even a Queen is opening up about the challenges of ageing? Do you agree with her thoughts on raising children less protectively? Isn't it lovely to hear such personal words from Queen Margrethe?
Comments