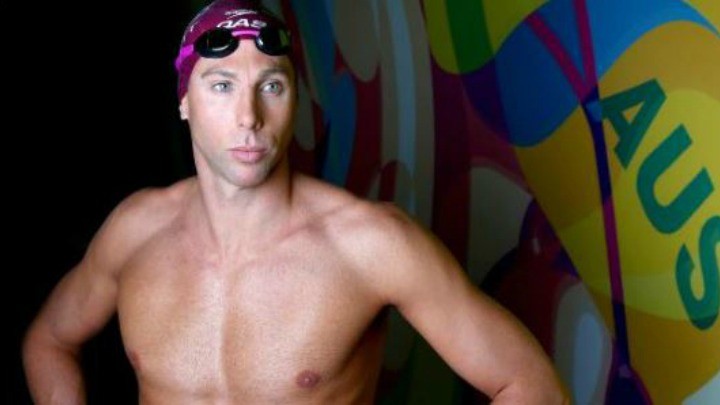 Things seem to be going from bad to worse for former Olympic gold medalist Grant Hackett.
He used to be one sports star you could put your money on, and as a result he was earning quite a bit himself through sponsorship agreements and the like. He was so bankable, one bank even employed him after he chose to retire from swimming.
He seemed like a genuinely good guy and we liked him, because in an age where a lot of 20-somethings seem to struggle with 'life' Hackett showed us that with a bit of hard work and determination, a commitment and a desire, things can be achieve.
Hackett left the sport of swimming at just the right time. He married an Aussie singer by the name of Candice Alley and together they started a little family.
Life appeared to be roses for this poster boy of Australian swimming.
Then the walls started to crumble, first a little bit and then the rubble started to pile up.
Few would forget the trashing of a luxurious apartment after race day celebrations at Flemington, or when Westpac dropped him as its ambassador a short time before he and Alley separated, or the stint of rehab he did for an addiction to Stilnox.
Golden boys can make mistakes too.
When he quietly planned a return to swimming and an attempt at another Olympic Games there was hope Hackett's life was on the up.
However, overnight the dual Olympic champion suffered an inglorious end to his comeback story when he was detained and questioned by the Australian Federal Police for allegedly groping a fellow passenger on a flight from Adelaide to Melbourne.
.@Grant_Hackett questioned by Federal Police after allegedly assaulting a passenger on a plane. @RobertOvadiahttps://t.co/BixF3a3jtO

— 7 News Sydney (@7NewsSydney) April 17, 2016
Rio Olympic swimming head coach Jacco Verhaeren had hoped to use Hackett as a team mentor, despite the fact the 35-year-old failed in his bid for a spot on the team, but you would think that with the swimming team wanting to make amends from its appalling London 2012 outing, this cloud hanging over Hackett could destroy such an opportunity.
What do you think about Grant Hackett's latest drama? Have you ever struggled?
Comments