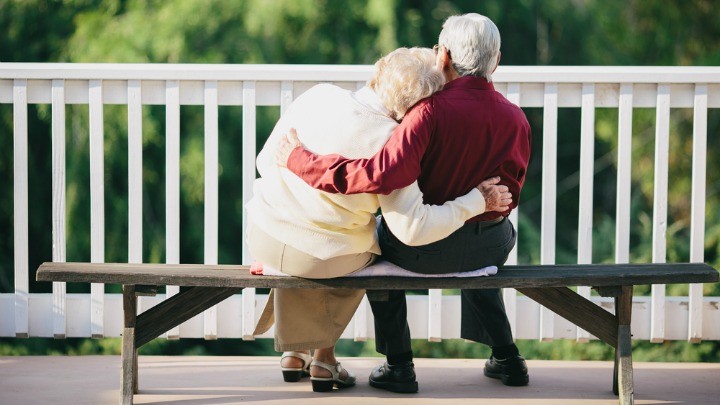 Roy Vickerman, 90, finally gets to marry his "wartime sweetheart", Nora Jackson, 89, after spending more than 70 years apart.
The British World War II veteran was reunited with the love of his life after phoning into a radio station telling them his thoughts on love, relationships and his wish to apologise to Jackson for breaking off their engagement in 1944.
The producer tracked her down but it took about a month of debating with himself before Vickerman decided to go and visit her, "I didn't want to intrude if Nora had a husband, but one day, I just thought, 'No, I'll just go get some flowers and tell them I'd like to ask how Nora is and that I'd like to apologise to her for what happened,'" he told ABC News.
When he did decide to go visit it didn't take Jackson long to work out who he was, "She told me, 'Oh Roy, I thought I'd never see you again,' and then she gave me a kiss and said, 'Hold me,'" he said.
Since their reunion he has visited her every day and on March 26th Vickerman turned 90 and once again got down on bended knee to ask Jackson to marry him. He even used the same ring from their first engagement, which he had kept since 1944.
The pair first met in 1940 when they attended school together in Bucknall, United Kingdom. At the age of 13 Vickerman says he knew she was the one, "When the teacher told the class there's a new boy from London, all the faces turned towards me but the only one I saw was Nora," he said. "I thought to myself, she's the girl for me."
The romance started through passing notes in class and progressed to "pages and pages of letters" while he was away from home and serving in the Army.
But after returning home Vickerman struggled to reconnect, "We had gotten engaged just before I went abroad, but when I came back, I think I developed post-traumatic stress disorder and I just wanted to be alone," Vickerman said. "So I called off the engagement."
They were separated for over 70 years, both going on to marry and have children with other partners, who have sadly passed away. But Nora was always in his heart, "To be honest, I had always thought about Nora the whole time," Vickerman said. "I was always wondering how Nora was."
After being separated for so long the pair are eager to wed as soon as possible,
"It would certainly do for me if we could wed in a week!"
"We certainly do believe fate brought us together again…I'm sure it was the will of God." he said.
Have you ever rekindled or been reunited with a lost love?
…ROY VICKERMAN (90 yo) proposed His Past Fiancee, NORA JACKSON (89 yo) with a Flower after 70 years separated… pic.twitter.com/VodwXgkcq5

— RIEFS SPRINGFIELDS (@Riefs68) April 6, 2016
D-Day veteran Roy Vickerman set to marry his former fiancee after 70 years apart https://t.co/PnWW3Sn6hB pic.twitter.com/YpEQj435WT

— Aaron Fernandes (@AARONRFERNANDES) April 4, 2016
Comments