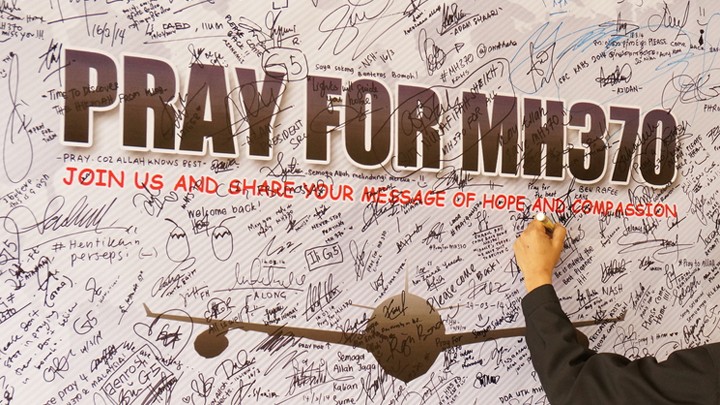 It's hard to believe it's been two years since the MH370 disaster but it has been, and the families have been counting every agonising day their loved ones have been away.
But on today's anniversary, is there still any hope of finding out what happened on March 8, 2014?
Malaysian Prime Minister Najib Razak said he was hopeful, but that the search had been the hardest in aviation history.
MH370 will eventually be found, two years on from its disappearance, say investigators, after it disappeared between Kuala Lumpur and Beijing with 239 people on board.
Only one confirmed piece of debris, a part of wing called a flaperon, has been found, on Reunion Island, however the bodies of the victims have never been recovered.
The search, involving Australian, Chinese and Malaysian experts, is expected to be wrapped this year if nothing is found.
"We remain committed to doing everything within our means to solving what is an agonising mystery for the loved ones of those who were lost," Mr Razak said in a statement.
Australian Transport Minister Darren Chester said the priority is still to find the plane in order to "give answers to the world, in particular the families of missing loved ones, about what happened".
It is hard to fathom what the families of the victims are feeling today on this horrible date, and the thoughts running through their heads.
Relatives of 12 passengers on the missing flight have now filed lawsuits in Beijing, seeking a range of damages, but their main goal was to determine the cause of the accident and establish who was responsible for the loss of the people they love so much.
It is not known exactly how many other legal actions may have been started around the world in connection with the case, reports the BBC.
Here in Australia, Kelly Wen, whose husband Li Le was on MH370, says she wants Malaysia Airlines to "take responsibility", and said a lack of answers over the flight's disappearance makes finding closure impossible.
"When other people tell you, 'accept the facts, things are the way they are', I just truly can't take it," Ms Wen said.
"If you haven't experienced it, you have no way of understanding.
"I'd rather believe that he is out there somewhere, and I tell my children Daddy's working".
In China, home to 153 of the passengers, many families still reject the idea that the aircraft has crashed.
"I don't believe the plane crashed," said Gao, whose 32-year-old daughter, Zhang Xiaolei, was returning home after a holiday. "There is no evidence to prove the plane is in the Indian Ocean.
"Over the past two years, they have found no evidence to prove the plane crashed or that the passengers were all dead despite so many rounds of searching," Gao added. "If they cannot provide the evidence, I cannot believe them", reports The Guardian.
Today and every day since, it seems everyone is at a loss to where the missing plane has gone.
We want to know today: How would you be feeling in this situation? Could you accept the loss of a loved one without truly knowing they had died?
Comments