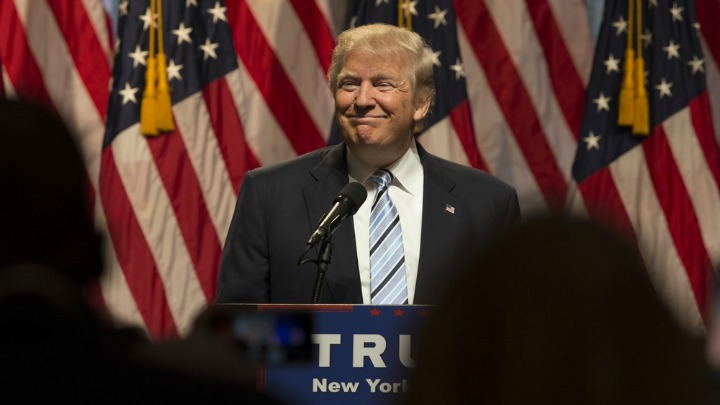 Donald Trump has painted a dark picture of the future of the United States and declared himself the only person who can prevent it.
Trump was in Cleveland to accept the Republican nomination for the presidential campaign and on at least two occasions he claimed to the the "voice" for working Americans and promised to restore law and order when he enters the White House in November.
"Nobody knows the systems better than me, which is why I alone can fix it," he says. "My message is things have to change — and they have to change right now."
Throughout the 1.25-hour address, Trump made attempts to calm the divisions that have revealed themselves across the US as well as within the Republican party, especially after Ted Cruz refused to endorse Trump's candidacy.
"The attacks on our police, and the terrorism in our cities, threaten our very way of life. Any politician who does not grasp this danger is not fit to lead our country," Trump says.
Donald Trump: "We cannot afford to be so politically correct anymore" https://t.co/LhdQeWeVxg #RNCinCLE https://t.co/S3tW65ZbpA

— CNN (@CNN) July 22, 2016
Trump seized on claims people no longer felt safe in their neighbourhoods and he lashed out at political correctness and corporate spin.
"We're going to build a great border wall to stop illegal immigration, to stop the gangs and violence, and to stop the drugs from pouring into our communities," Trump says, claiming that nearly four in 10 African-American children were living in poverty, along with 2 million Latinos.
Trump also said any nation that has been compromised by terrorism would have their entries into the US suspended until proper vetting could be put in place, saying only a change in leadership will "fix the mess".
"Remember: all of the people telling you that you can't have the country you want, are the same people telling you that I wouldn't be standing here tonight," Trump concluded.
What do you think of Trump wanting to stamp out political correctness? Have you ever withheld your opinion because of what others might think or say in response?
Comments